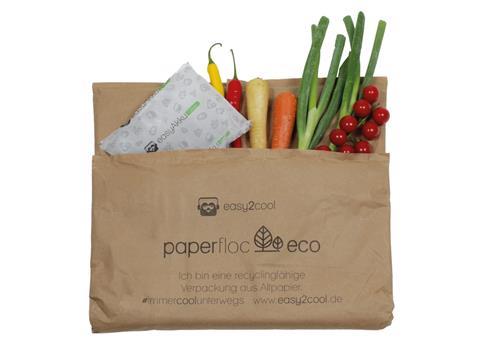 easy2cool has replaced the plastic outer layer of its paperfloc Eco-Liner e-commerce bag with Mondi's FunctionalBarrier Paper, aspiring to create a packaging solution for fresh and frozen food made entirely of paper.
While the pack itself is made of shredded recycled paper, it previously relied on a mono-PE outer layer around the insulation material. Replacing this with a paper alternative is set to enable consumers to opt into cyclos-HTP-certified recyclable, insulated pouches or liners for their deliveries.
The FunctionalBarrier Paper layer is thought to protect the insulation material from being compromised or damaged by condensation water. It is also said to offer shock absorbance to protect products from further damage, as well as sealing the packaging.
Both the pouches and liners claim to be responsibly sourced, renewable, and compatible with existing European paper recycling streams, with orders also arriving inside a corrugated box.
"We have trialled a number of different barrier papers, but chilled and frozen products have quite specific requirements and Mondi's FunctionalBarrier Paper meets all our requirements," says easy2cool founder and general manager Marco Knobloch. "Customers using the corrugated box can save up to 70% of the costs associated with the previous option of a polystyrene box, thanks to the reduced storage space used by the new foldable solutions.
"Another solution in our portfolio is combining a Mondi corrugated box with paperfloc insulation and our EasyAkkus product, to make a disposable cooler box that delivers reliable cooling for four days. Perfect for festivals."
Thomas Lunz, industry group manager Functional Paper, Mondi adds: "Shipping fresh and frozen food products effectively and sustainably has always been a challenge. By using our FunctionalBarrier Paper, easy2cool can work towards its targets of using resources efficiently to deliver the protection of temperature-sensitive goods anytime, anywhere.
"While the original application was developed for fresh and frozen food, the solution can also be used for pet food, cosmetics and pharmaceuticals."
In recent years, Mondi has unveiled the BCoolBox corrugated packaging solution for cooling perishable food during transport; a reusable kraft paper cooler bag, developed in collaboration with FRESH!PACKING, to help consumers carry chilled and frozen goods from the point of purchase to their homes; and, most recently, the paper-based TankerBox delivery solution, which is helping Aromsa ship more of its products with increased efficiency.
Unilever is also seeking to eliminate an annual 4,000 tonnes of virgin plastic from its packaging by trialling an FSC-certified paper pot for its Pot Noodle brand.
If you liked this article, you might also enjoy:
The Lidl approach to packaging sustainability
How did Brazil achieve its 100% aluminium can recycling rate – and can it be replicated in the EU?
Experts have their say on the EU's Packaging and Packaging Waste Directive revisions
A deep dive into the most important packaging sustainability trends and solution