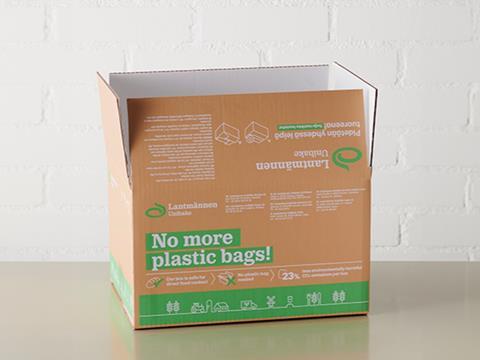 A collaboration between UPM Specialty Papers, Lantmännen Unibake, and Adara has produced a fibre-based, food-contact barrier paper as an inner liner for frozen baked goods packaging; it is expected to replace plastic bags as primary packaging and preserve product freshness.
UPM Asendo is described as recyclable and both home and industrially compostable. Apparently, it is useful for dry, chilled, and frozen foods, alongside bread bags and non-food wrapping.
By applying the paper inside a corrugated cardboard box, it is expected to serve as a food-safe solution that repels grease and moisture and preserves the freshness of the baked goods. It is also set to avoid reliance on fossil-based materials and contribute towards Lantmännen Unibake and Adara's sustainability goals for food and retail service.
Kirsi Lahtela, product manager at UPM Specialty Papers, says: "The partnership with Lantmännen Unibake and Adara opened the opportunity to unite our expertise across the food packaging value network to create a renewable and recyclable packaging solution for frozen bread.
"Lantmännen Unibake and a third-party food industry development company conducted thorough testing and analysis on the impact of packaging materials on the taste of the frozen bread; as a result UPM Asendo was chosen as the inner liner for the cardboard box. The food safe UPM Asendo barrier paper layer has proven to offer the grease and moisture resistance needed while ensuring food safety."
"We are eager to drive innovations in our industry and find more sustainable packaging solutions," continues Riikka Salokannel, packaging development manager at Lantmännen Unibake Finland. "This new packaging innovation for frozen bakery products could not have been created without UPM Specialty Papers and Adara; it is a great example of how we can reduce the use of plastic in food packaging by working together with industry partners."
"It has been great working in a project where the goal has been to co-create a more sustainable packaging solution for baked goods, taking the whole value chain into consideration," adds Mikko Järvinen, manufacturing and development manager at Adara. "The learnings from this project can be applied to other product categories in the future."
In related news, Ahlstrom and The Paper People recently revealed a new line of fibre-based, certified-recyclable packaging for frozen food applications. This is expected to replace traditional, fossil-based plastic and films.
easy2cool has also replaced the plastic outer layer of its paperfloc Eco-Liner e-commerce bag with Mondi's FunctionalBarrier Paper to create a packaging solution for fresh and frozen food made entirely of paper.
If you liked this article, you might also enjoy:
The L'Oréal approach to packaging sustainability
What steps is Apple taking to make its packaging more sustainable?
How did Brazil achieve its 100% aluminium can recycling rate – and can it be replicated in the EU?
Experts have their say on the EU's Packaging and Packaging Waste Directive revisions