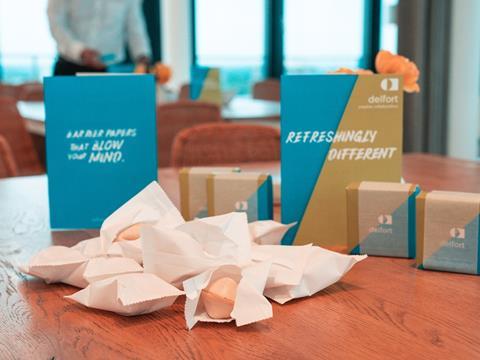 Sweet & Lucky is applying delfort's thinbarrier 301 barrier paper to its fortune cookie packaging with its sights set on a recyclable, high-performance solution that extends the product's shelf life by a minimum of three months.
A strong barrier against water vapour, high processibility on existing packaging machines, and the capability of extending the cookies' shelf life were important requirements when designing the packaging. As a result, delfort's base paper – said to feature an optimally matched recipe and surface structure – features a barrier coating developed by its research partner delsci to create thinbarrier 301.
The paper is said to offer an 'ideal' water vapour barrier and guarantee a shelf life of at least three months to suit the needs of the fortune cookie supply chain. It is also said to be recyclable in the paper stream at end-of-life.
Therefore, the packaging expects to offer a unique selling point to differentiate Sweet & Lucky's fortune cookies from competing brands and bring the company closer to its goals for sustainable practice.
It is also claimed that thinbarrier 301 runs smoothly on existing packaging machines and can be processed with no technical changes required. Any further technical measures are said to be easy to implement.
Martin Zahlbruckner, CEO of delfort, comments: "The success of this project was based on a real commitment from all involved, a comprehensive understanding of the barrier requirements as well as the performance on the packaging line. Equally crucial to the joint success was a willingness to move to more sustainable solutions to create recyclable product packaging for consumers."
"CLARUS has been committed to sustainable packaging for several years," says Norman Thom, CEO of CLARUS. "One building block is flexible and sealable papers. Our partner delfort fills the gap of barrier papers and offers them with a water vapor barrier which works perfectly in use.
"The fortune cookies from Sweet & Lucky, packed in thinbarrier® 301 from delfort are a successful step in permanently establishing sustainable paper packaging in the food industry.
"CLARUS not only specializes in consulting and selling packaging machines, but also in modifying existing machines. When changing over to flexible papers, a simple exchange of the forming shoulder may be necessary, which we are happy to assist with."
Other paper packaging developments in the food industry include adapa Group's certified repulpable twist wrap for confectionery and Mondi and Veetee's paper-based pack for dry rice.
Kemira and Jain Chem are also aspiring to phase out PE and PFAS in paper and board end-use applications with the development of new aqueous barrier coatings.
If you liked this article, you might also enjoy:
The L'Oréal approach to packaging sustainability
What steps is Apple taking to make its packaging more sustainable?
How did Brazil achieve its 100% aluminium can recycling rate – and can it be replicated in the EU?
Experts have their say on the EU's Packaging and Packaging Waste Directive revisions