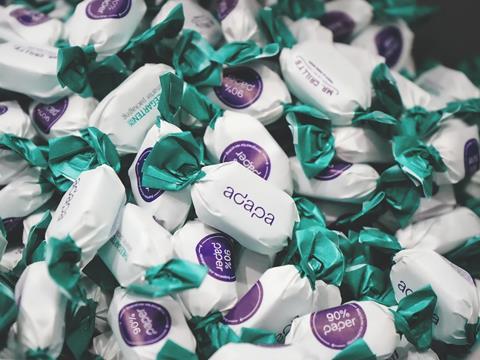 adapa Group has created a paper-based, certified repulpable twist wrap for confectionery like toffees, soft caramels, and sweets.
PaperTwister(re) is designed to run on the fastest twist wrappers on the market and reportedly performs 'perfectly' on both the newest high-speed packaging machines and established lines. It claims to have a proven output of 2,300 pieces per minute.
The packaging is made with 90% paper and a plant-based coating, with the new CEPI (4EverGreen) and OPRL (CPI) standards certifying it as repulpable. According to adapa, it is 'pleasant and reliable' to open and offers an easy-release feature to prevent the wrapper from attaching to sticky confectionery products.
Users can choose between versions that are waxed with paraffin or paraffin-free; free from palm oil or wax; or designed for recycling. A specialised version is also available for applications where heightened mechanical resilience is necessary.
The twist wrap is available in a range of sizes between 40 and 50 g/m2 and in both standard paper and metallized versions. It is printable in a palette of up to eight colours and can be used as a single or double-twist wrapper, as well as in folding applications, with 'outstanding and reliable' performance.
Richard Bell, head of R&D Confectionery, Tea & Coffee and Home & Personal Care at adapa, says: "PaperTwister(re) combines performance with sustainability and fits perfectly into our complete range of paper and plastic-based twist wraps for confectionery. We are proud to announce that our newest development has won over industry professionals: with PaperTwister(re) we are shortlisted in the 'Innovation of the Year' category of the UK Packaging Awards 2023."
In similar developments, Nestlé's Quality Street line implemented FSC-certified paper packaging for its twist-wrapped sweets last year, seeking to replace 2.5 billion individual foil and cellulose wrappers globally; and chocolate manufacturer Whitakers has adopted a recyclable, fibre-based truffle carton manufactured by Qualvis Packaging and Sun Chemical. It utilises aqueous varnish and bio-renewable inks suitable for direct food contact.
Parkside's Park2Nature compostable material has also been applied to a new TÜV-certified home compostable packaging design for the vegan chocolate brand Mummy Meegz.
adapa's own developments include winning a PackTheFuture Award in the Design for Recycling category for its VACUshrink(re) MEX 55 food-contact shrink bag; and releasing a new, PE-based skin film range for premium meat and fish products to its SkinFresh Top brand.
If you liked this article, you might also enjoy:
The L'Oréal approach to packaging sustainability
What steps is Apple taking to make its packaging more sustainable?
How did Brazil achieve its 100% aluminium can recycling rate – and can it be replicated in the EU?
Experts have their say on the EU's Packaging and Packaging Waste Directive revisions