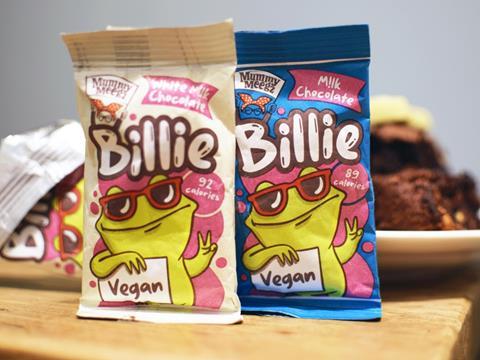 Parkside has provided its Park2Nature compostable material to a new TÜV-certified home compostable packaging design for Mummy Meegz's vegan chocolate.
Two designs have been developed to differentiate between the oat milk and white chocolate product lines. Both packs feature Billie, a cartoon frog serving as the Mummy Meegz mascot, which in turn resembles the frog-shaped chocolate inside the pack.
Their TÜV certification indicates that the packs break down into biomass, water, and carbon dioxide within twenty-six weeks in a domestic compost heap and twelve weeks in a composting facility. If it enters the ocean, it apparently breaks down by 96% in thirty-six weeks, with signs of microbial activity that is required for full degradation.
Park2Nature is a paper-based triplex laminate that does not contain PLAs, GMOs, or other substances that could leak into nature.
"Sustainability and ethical shopping are increasingly important to today's consumers, as more shoppers than ever are concerned with how their purchases are produced and packed," said Paul Lenihan, sales account manager at Parkside. "This pack, produced in partnership with Mummy Meegz, considers the sustainable sentiments of today's consumer.
"Mummy Meegz is a wonderful, independent business with a strong, uncompromising brand identity. Their motto is 'kindness 100% guaranteed' and we are proud to have delivered a pack that aligns with that ethos."
Helen Hartley, managing director of Mummy Meegz, added: "We are on a mission to show the world that chocolate can be mind-blowingly good without the need for animal products. At the same time we want to minimise any potential impact to animals and marine life throughout the full life cycle of our packaging, and Parkside's sustainable solutions really fit the bill."
Other recent Parkside projects include its work with food and drink brand SMUG have unveiled what is said to be a 100% compostable crisp packet; and a collaboration with New Forest Fruit Company to create a TÜV-certified home compostable flexible packaging solution for its 'plant to packet' dried strawberries range.
In its own effort to keep 800 million tea bags out of landfill every year, Lidl GB is implementing 'fully compostable', plant-based PLA tea bags into its own-brand lines.
If you liked this article, you might also enjoy:
The L'Oréal approach to packaging sustainability
What steps is Apple taking to make its packaging more sustainable?
How did Brazil achieve its 100% aluminium can recycling rate – and can it be replicated in the EU?
Experts have their say on the EU's Packaging and Packaging Waste Directive revisions