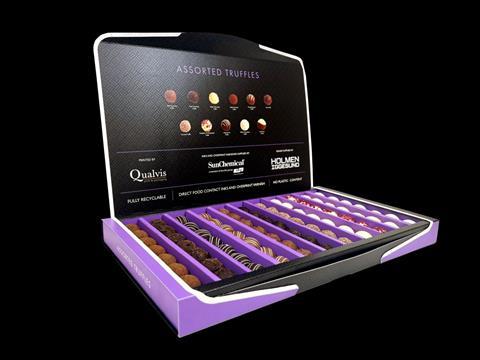 Qualvis Packaging and Sun Chemical have developed a recyclable, fibre-based truffle carton – featuring aqueous varnish and bio-renewable inks suitable for direct food contact – for chocolate manufacturer Whitakers.
Displayed at Sun Chemical's booth at interpack 2023, the pack is made of paperboard from Holmen Iggesund and eliminates a layer of plastic extrusion between the product and the ink film by utilising SunPak DirectFood Plus low migration inks and SunSpec SunStar direct food-contact aqueous varnish on the inside of the carton.
Meanwhile, SunPak EcoPace low migration inks and SunCoat aqueous varnish are applied to the front of the carton and are anticipated to decrease its overall carbon footprint. The inks are all said to be cradle-to-cradle certified and apparently offer a 'very high' bio-renewable content through a new, fossil fuel-free carbon black derived process ink.
The new design also features a built-in tear strip to hold the lid in place before consumer use – an adjustment intended to replace outer cellophane wrap. The carton is set to replace the PET double clam shell that currently packages Whitakers' truffles while maintaining the pack's structural integrity and functional resistance and barrier properties.
"Whitakers is a long-standing customer of ours," explains Richard Pacey, sales director at Qualvis. "When we proactively approached them about this project, we turned to Sun Chemical as our go-to supplier for food-contact inks. Sun Chemical's expertise in inks, specifically for food-contact applications, along with their sustainability credentials meant that, together, we were able to seamlessly bring our vision for Whitaker's premium pack to life.
"Compared to solutions from other suppliers, the inks truly stand out in terms of on press performance and quality. Vibrancy is not compromised at all and there are never any on-press issues. We are able to print in as many colours and designs as we would with typical non-food-contact inks be it CMYK or Pantones, enabling the brand to improve the overall attractiveness of the packaging, all while ensuring regulation compliance."
"The concept of this packaging is similar to some of our daylines that Qualvis produce for us in DFC print, but the structure is a new concept," continues Whitakers owner William Whitaker. "There are major benefits in being able to eliminate plastic and increase the sustainability credentials of our products, so meeting safety regulations and ensuring consumer safety of the packaging is always front of mind for us as a brand owner.
"The collaboration with Qualvis and Sun Chemical gave us the confidence to reach new limits, while maintaining safety and brand reputation. Based on the success of this solution, we continue to explore new projects with Qualvis, where we can deploy the same print technology."
Jim Buchanan, product director for Sheetfed Systems at Sun Chemical, adds: "Our R&D team works hard to develop products that comply with exceptional levels of migration testing, and sustainability is a core brand value for us, so it is an honour to be such an integral part of this innovative project. Qualvis is a long-term partner of ours that is renowned in the packaging industry. Their agile and flexible approach, combined with their creativity and expertise, makes them an ideal partner to work with, which is further demonstrated by the key major brands that have trust in them, such as Whitakers."
Last Christmas, Fazer utilised dispersion-coated paperboard from Metsä Board to create a lightweight and recyclable advent calendar – a move expected to reduce 1200kg of plastic per year when compared to the previous PE-coated design.
Mars Wrigley also announced that several of its chocolate bar brands would transition into paper-based packaging suitable for kerbside recycling in Australia.
Also at interpack 2023 was Huhtamaki's flexible, mono-material solutions made from paper, polyethylene, and polypropylene, which are designed to offer manufacturers protective, affordable, and recyclable options for packaging food products.
If you liked this article, you might also enjoy:
McDonald's Director of Sustainability in Europe on the company's approach to packaging sustainability
McKinsey on whether or not on-pack sustainability claims affect consumer spending
Perspectives from industry-leading experts on the EU's Packaging and Packaging Waste Directive revisions
A deep dive into the most important packaging sustainability trends and solutions