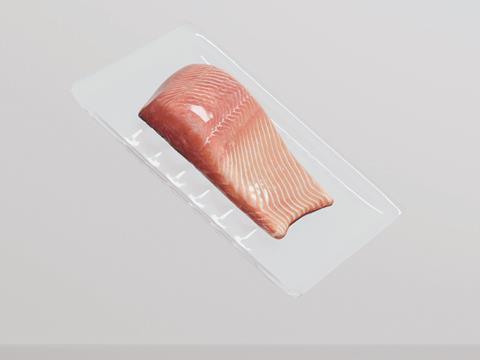 adapa Group has added a new, PE-based skin film range to its SkinFresh Top brand, designed as a high-performance, visually appealing, and processable packaging solution for premium meat and fish products.
The transparent, high-gloss, form-fitting SkinFresh Top Expert film is designed to fit the product 'like a second skin' and ensure that it can be examined from all angles. It allows the meat to be displayed upright or in a hanging position to optimise its presentation at the point of sale.
SkinFresh Top Expert also claims to protect against drip loss, secure the product in its pack, and improve the shelf life of fresh meat and fish. Alongside providing a tight yet tension-free seal, according to adapa, it can be applied to convenient packaging solutions such as ready meals that are microwaved in their packaging.
The film is printable and can be used on products of various heights and those containing bones. It is available in various thicknesses between 80 and 150 µm and can be sealed to APET and PP mono films and trays or PE sealing layers.
Additionally, the range comes with a new formulation intended to ensure its compatibility with state-of-the-art packaging lines. adapa recommends that interested parties test their own products with its services at the PackScience Center in Kempten, where the films can be viewed on traysealers and thermoformers in real time.
In May, adapa invested in two new lines for high-performance shrink bags at its St. Helens plant and revealed that its PE-based, food-contact shrink bag, VACUshrink(re) MEX 55, won a PackTheFuture Award at interpack 2023.
Amcor also revealed its recyclable PrimeSeal and DairySeal Recycle-Ready Thermoforming Films earlier this year; the films offer memory retention technology for meat, fish, and dairy products, claiming to lower carbon footprints by 80% in comparison with existing PA and PE films.
If you liked this article, you might also enjoy:
The Lidl approach to packaging sustainability
How did Brazil achieve its 100% aluminium can recycling rate – and can it be replicated in the EU?
Experts have their say on the EU's Packaging and Packaging Waste Directive revisions
A deep dive into the most important packaging sustainability trends and solutions