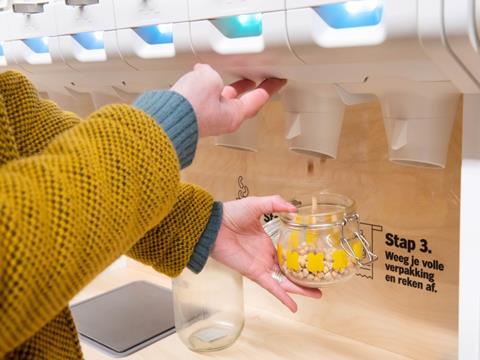 Albert Heijn is launching AH Packaging Free, a shopping concept that will see around 70 products – including cereal, pasta, spreads, tea, and nuts – offered in smart dispensers that can be used with consumers' own containers or reusable jars and bags purchased in store.
To begin with, packaging free shopping will be trailed in Albert Heijn XL in Rotterdam, in partnership with SUPZero, a company that provides guidance on waste-free concepts. The retailer says the initiative will then be offered at the XL on Gelderlandplein in Amsterdam and the XL in Leidschendam, followed by another 50 stores over the next year.
According to the retailer, AH Packaging Free involves six metres of smart dispensers where customers can fill their own reusable packaging or buy a reusable jar or bag. Customers will be asked to first weigh the packaging without the product, then fill their container, print a label, and pay for the items at the checkout.
Products included in the trial are muesli and other cereals, pasta, rice, spreads, tea, and nuts. The retailer claims about 80% of the packaging free range are organic, including special products such as Fonio (a type of grain that grows in West Africa) and organic coffee beans.
In addition, tags will apparently be displayed near packaged products like nuts and rice to remind customers that these products are available as part of AH Packaging Free.
Marit van Egmond, CEO at Albert Heijn, explains: "Together, making better food accessible to everyone, that's what we stand for at Albert Heijn.
"We encourage a healthy lifestyle and want to leave the earth a better place. We do the latter, for example, by continuously checking whether we can use less packaging material.
"The great thing about this concept is that customers can simply take products with them in their own reusable packaging, time after time. You can also grab exactly the amount you need. In this way, together we ensure less waste and less wastage."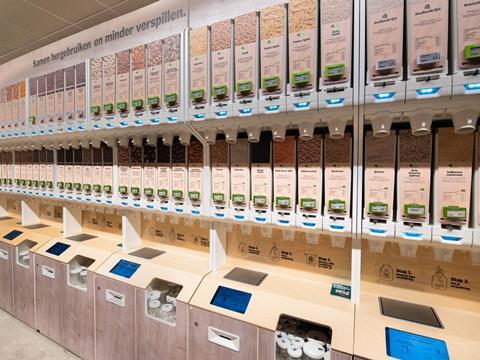 Elisah Pals, founder of Zero Waste Netherlands, comments on Albert Heijn's initiative: "We have to move away from the throw-away society. Separating waste at home is great, avoiding it when shopping is even better. That is a direct environmental benefit.
"I hope that we will soon be able to do packaging-free shopping in more stores."
Albert Heijn is aiming to make a 20 million kilo reduction in its packaging material by 2025. The retailer says that in recent years, it has saved almost 10 million kilos of packaging material by using no, less or different materials. Additionally, all its own-brand packaging must be 100% recyclable, according to the retailer.
Last year, the German supermarket chain Kaufland trialled packaging free sections within its supermarkets, with 40 staple foods like rice, pasta, lentils, and dried fruit included via dispensers. In the UK, retailers including M&S and Waitrose – which already offer refill concepts in select stores – joined forces with CHEP to form a Refill Coalition, with the intention of scaling an end-to-end refill solution to be trialled both in-store and for bulk home deliveries.