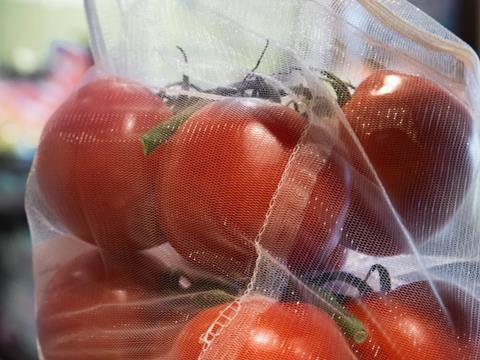 Dutch retailers Albert Heijn, ALDI, JUMBO, Lidl, and PLUS have pledged to implement reusable bags, which consumers can clean at home, for their fruit and vegetable products – a move expected to save an annual 126 million plastic bags and 10 million paper bags.
The five supermarket chains are members of the Plastic Pact NL, in which the Dutch government and over 100 leaders in the plastics chain seek a collective reduction in plastic usage and better recycling systems.
"The less waste we all bring into the chain, the less we ultimately have to process," says Vivianne Heijnen, Minister for the Environment. "I therefore embrace this initiative by Dutch supermarkets to put an end to disposable bags for potatoes, vegetables, and fruit. It would be fantastic if all supermarkets joined the initiative."
Carlijn Röell, operational director of the Plastic Pact NL, adds: "Consumers have to get used to the fact that reuse of packaging is normal as quickly as possible. That is why it is important that as many supermarket chains as possible participate. The Plastic Pack NL will continue to support these kinds of joint initiatives."
With Albert Heijn banning single-use plastic bags and replacing them with a reusable alternative last year, the other supermarkets now plan to follow suit, as laid out in a joint letter of intent. Paper bags are also set to be used for fruit and vegetables.
Previously, the French government also contributed towards its aim of phasing out single-use plastics with plans to ban the sale of fruit and vegetables in plastic packaging from 1st January 2022. Packaging Europe spoke to Emma Samson from Searious Business and Sébastien Jacques from ELIPSO about their differing views on the situation.
Other efforts to reduce packaging waste in a retail environment have included Albert Heijn's AH Packaging Free smart dispenser concept; Lidl's partnership with Algramo to offer in-store automated refill stations for laundry liquid detergents in smart HDPE bottles; and Aldi's trial of clear plastic caps for its milk bottles.