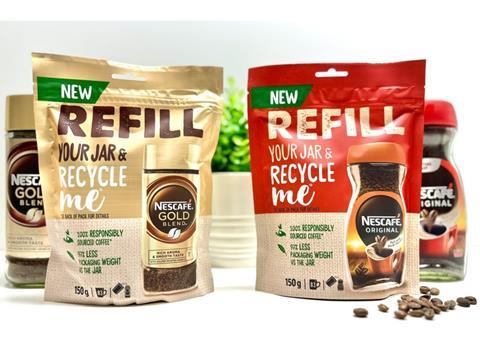 Nescafé is rolling out what claims to be the first instant coffee refill pouch – said to contain an average of 60% less plastic than the lid of a 200g glass coffee jar and cut down on packaging overall, as well as being recyclable.
Already available for Nescafé's Gold Blend coffee and set to package its Original flavour at the end of the month, the 150g pouch is thought to be 97% lighter than its jar equivalent. It is also resealable, enabling consumers to preserve the product's freshness.
Empty packs can reportedly be recycled at over 5,000 in-store locations across the UK and through kerbside collection in Ireland. Its reduction of packaging is also expected to make the product cheaper for consumers to buy.
It is hoped that the pouch will contribute to Nescafé's sustainability commitments, specifically the reduction of its virgin plastic usage by one-third by 2025.
"We know that Nescafé lovers are getting more concerned about the sustainability credentials of the products they consume," said Sophie Demoulin, marketing director of Nescafé Soluble Coffee. "We are therefore really proud to launch this new coffee pack that offers our fans the same great coffee and the iconic rich aroma that they love in less packaging whilst offering better value for money."
Various retailers have implemented reuse solutions that involve the purchase of coffee. Albert Heijn's AH Packaging Free shopping concept allowed consumers to fill their own or store-bought reusable packaging with such products as organic coffee beans; Morrisons opened a pilot store last year in which seventy products, including coffee, were stocked in refill 'hoppers' for consumers to pour out and purchase; and Aldi's new 'green' supermarket utilised a module made by Miwa to enable what aims to be zero-waste shopping for coffee, amongst other products.
This year, a new study has suggested that filter, French press, and instant coffee solutions are all outperformed by coffee pods when it comes to greenhouse gas emissions.