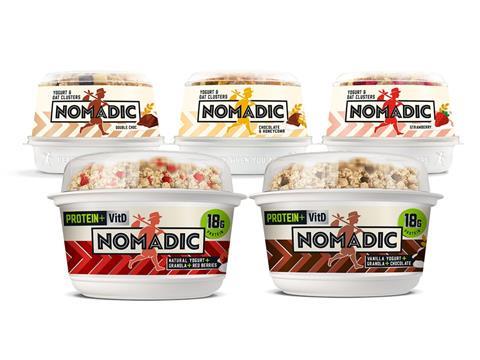 Greiner Packaging has worked alongside Nomadic to launch its new Protein+ Granola range in an 'upside-down version' of its Yogurt & Oat Clusters packaging format, designed for eating on the go and complete recyclability.
Coinciding with Nomadic's 25th anniversary and the release of a new growth plan, the 'instantly recognisable' pack seeks to 'repurpose' the existing Yogurt & Oat Clusters packaging design.
Protein+ Granola itself is intended to tackle vitamin D deficiency in the UK and Ireland in a convenient and nourishing manner, also catering to consumers outside of the fitness community to meet increasing demand for protein foods.
Bethan Miles, marketing manager at Nomadic, explains: "Just like our hero Yogurt & Oat Clusters range, Protein+ Granola is taste prioritised with accessible flavours and is designed to be eaten on the go with no preparation. The packaging is therefore crucial to the product's success.
"Our iconic top-hat bowl packaging format – with spoon – for our category leading Yogurt & Oat Clusters is instantly recognisable and very popular with our consumers, so developing a similar pack for the new product line was essential.
"The new pack is an upside-down version of the familiar and best-selling Yogurt & Oat Clusters, literally flipping the packaging on its head. We worked closely with our existing supplier Greiner Packaging to find a way to achieve that while also ensuring it fitted easily into our existing capabilities in the factory.
"The process of developing the new packaging was more straightforward than expected as Greiner Packaging already had tooling which was able to be repurposed. I should also add that all our packaging is 100% recyclable and labelled accordingly."
Julie Eller, sales director of Packaging UK & Ireland at Greiner Packaging, adds: "Creating this new packaging for Nomadic is exciting as it gives us a chance to remind existing and potential customers that in our vault, we have a huge range of tooling which can easily be repurposed to create new innovative packaging.
"At a time when brands may have reduced budgets, this creates the opportunity to be agile and introduce new packaging variations without the associated initial costs and delays.
"Taking Nomadic's iconic bowl design and almost literally turning it on its head took some clever engineering, but with sustainability always top of mind for Greiner, being able to create new packaging using less energy is a positive benefit.
"We have actively championed the mantra of 'Reduce, Reuse, Recycle' for many years – and with this project we have had the chance to demonstrate that we can add 'Repurpose' to this important list."
Last year, Kellogg's celebrated its 100th anniversary by partnering with Deldea Design, HP Indigo, and Precision Proco Group to design and digitally print limited-edition Corn Flakes cereal packaging.
Packaging Europe also caught up with O F Packaging, winners of the Diamond Award at Dow's Packaging Innovation Awards, about its curbside recyclable, high-barrier stand-up pouch – used to package cereal, amongst other products.
More recently, Nestlé announced that it would pilot refillable vending machines for its Milo and Koko Krunch cereals, hoping to reduce the amount of its packaging wasted.
If you liked this article, you might also enjoy:
The Lidl approach to packaging sustainability
How did Brazil achieve its 100% aluminium can recycling rate – and can it be replicated in the EU?
Experts have their say on the EU's Packaging and Packaging Waste Directive revisions
A deep dive into the most important packaging sustainability trends and solution