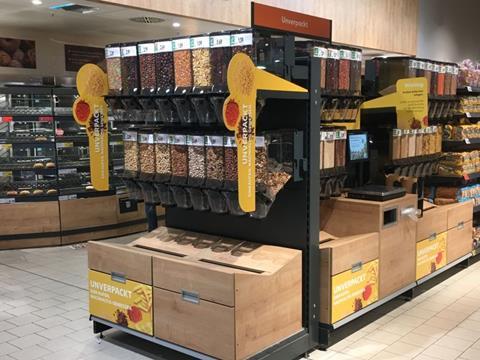 Kaufland has announced that it is currently trialling packaging free sections within its supermarkets that allows customers to buy food items such as organic pasta, rice, lentils or dried fruit without the use of packaging. If tests are successful, the concept will be rolled out in stores across the chain.
The range includes around 40 staple foods such as rice, pasta, bulgur and quinoa, but also chocolate covered nuts, dried fruits and muesli. Customers are able to fill the foods either into containers they brought themselves or containers that are available at the supermarket. During the tests, existing standards were developed further and a special hygiene concept was developed. For example, all food items are only available via dispensers, so that there is no direct food contact.
"So far, we're very pleased with the results. Over the course of the first few weeks, the hubs were popular with customers and employees. In order to be able to make a valid and sustainable decision, we will run the tests for at least half year," says Steffen Endlich, managing director for goods distribution at Kaufland.