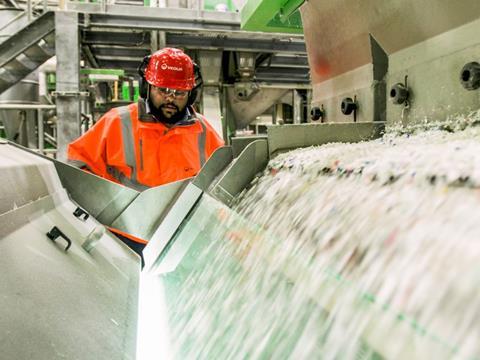 In a bid to recycle over 380,000 milk bottles every year, One Stop and Veolia are collaborating to establish an in-store collection and bottle-to-bottle recycling system.
On a weekly basis, Veolia is set to collect One Stop's Own Label milk bottles from in-store vending machines and staff refreshments from the retailer's distribution centres. These will then be delivered to Veolia's Dagenham Plastic Facility, where the bottles will be washed, shredded, and converted into pellets to be blown back into milk bottles.
"Veolia is delighted to be working closely with One Stop to recycle their milk bottles, ensuring we reduce their carbon impact on the environment," said Simon Futcher, Commercial Business Development director at Veolia. "This partnership aligns with Veolia's purpose of ecological transformation and demonstrates a closed loop recycling solution. Turning used milk bottles into fresh ones replaces the need for raw materials and saves 67% of carbon emissions at the same time."
"We're so pleased to be working with Veolia on this new initiative," added Amriene Kalsi, sustainability manager at One Stop. "It's certainly another key step towards our goal of increasing recycling within our own operations, contributing to our target of meeting net zero by 2050."
Last year, Morrisons announced its decision to transition away from HDPE milk bottles and into 'carbon neutral' cartons from Tetra Pak in a bid to cut out 100 tonnes of plastic waste every year. This was not universally well-received, with Jonathan Wragg, owner of CAP Environmental, speaking to Packaging Europe about the potential environmental downsides.
One Stop recently announced that it would replace the hard-to-recycle green bottle caps on its British semi-skimmed standard milk with clear recyclable lids – joining Waitrose, Aldi, Co-op, and Asda in removing coloured milk bottles from their product lines.
If you liked this article, you might also enjoy:
McDonald's Director of Sustainability in Europe on the company's approach to packaging sustainability
McKinsey on whether or not on-pack sustainability claims affect consumer spending
Perspectives from industry-leading experts on the EU's Packaging and Packaging Waste Directive revisions
A deep dive into the most important packaging sustainability trends and solutions