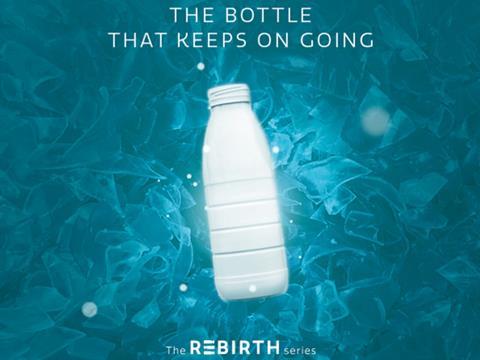 Resilux and Inex have unveiled the Rebirth series, which recycles opaque white milk bottles into new ones. The solution seeks to close the loop on ultra-high-temperature milk packaging.
In collaboration with Fost+, Resilux's Poly Recycling division sorts the collected bottles into a separate stream, where they are ground, washed, and regranulated into food-grade feedstock. The Rebirth series claims to be between 20% and 40% lighter than HDPE bottles and thus offer a lower carbon footprint, alongside the establishment of a circular economy for the bottles.
Inex's aseptic PET line is set to enable flexible switching between different bottle sizes. The absence of an aluminium seal is also thought to be environmentally beneficial for the pack and enable horizontal storage without risking leakage.
The companies hope that the Rebirth solution will bring the industry together in a collaborative effort to close the loop on opaque white bottles and secure a more sustainable future for milk packaging. It also adheres to Resilux's People, Planet, Product philosophy, in which collaboration with customers and stakeholders aims to develop the best solutions for protecting products.
"At Resilux, we believe in the power of collaboration to address the pressing environmental challenges of today and tomorrow," explains CEO Dirk De Cuyper. "By joining forces with Inex, we have achieved to develop our Rebirth series, an innovation that significantly reduces the reliance on virgin PET resources for packaging.
"This breakthrough enables us to recycle white opaque bottles into new ones without compromising on food safety or quality, while also providing optimal protection for a longer shelf life, through our ResiBlock light barrier solutions."
In similar news, One Stop and Veolia are working together on a system for in-store collection and bottle-to-bottle recycling – aiming to recycle over 380,000 milk bottles annually.
Recyclable milk caps have also been a hot topic of conversation in the industry. Asda and Tesco are among various retailers adopting clear bottle caps for their milk packaging; they respectively hope to recycle 268 tonnes of rHDPE into new milk bottles and re-integrate 3,900 extra tonnes of recycled plastic into the loop for new milk bottles every year.
If you liked this article, you might also enjoy:
The L'Oréal approach to packaging sustainability
What steps is Apple taking to make its packaging more sustainable?
How did Brazil achieve its 100% aluminium can recycling rate – and can it be replicated in the EU?
Experts have their say on the EU's Packaging and Packaging Waste Directive revisions