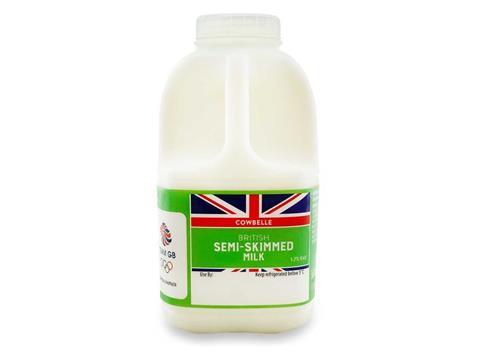 Aldi is set to trial clear plastic caps for its milk bottles later this month, with the aim of boosting closed-loop recycling for food-grade HDPE.
Aldi will collaborate with the milk supplier Müller on the trial, which will be introduced later this month across its stores in Cheshire, Manchester, and Liverpool. The retailer says that the trial will initially apply to its British Semi Skimmed Standard Milk products, which previously featured a green bottle top.
According to the companies, clear plastic caps are easier to recycle alongside the high-density polythene (HDPE) used to make milk bottles compared to coloured tops. If the trial is successful and the clear caps are rolled out across all Müller-supplied stores, an additional 60 tonnes per year of recycled HDPE could reportedly be recycled back into food-grade packaging with the companies claiming that the milk bottle tops will be reused to create new milk bottles as part of this process.
Richard Gorman, plastics and packaging director at Aldi, comments: "We know it's becoming increasingly important to our customers that their everyday products are environmentally-friendly, and we are constantly reviewing ways to become a more sustainable supermarket.
"By trialling clear milk caps we are making our milk bottles easier to recycle, so they can be turned back into new packaging."
In March, Waitrose announced a similar trial with Müller, which involved replacing the blue, green, and red caps with clear caps for own-brand HDPE milk bottles across all of the retailer's stores. Following "overwhelmingly positive" feedback during the trial, Waitrose has made the switch to clear caps permanent across its Essential Waitrose milk range, apparently accounting for around 44% of the retailer's milk sales.