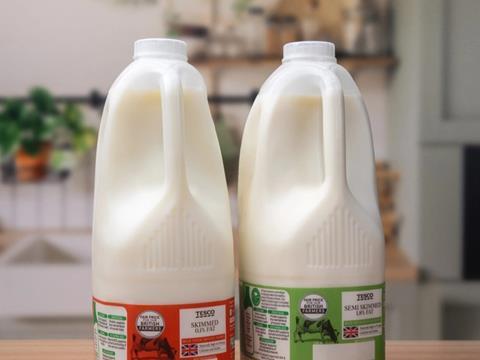 Tesco is sealing its own brand milk with clear caps to design the whole pack for home recycling and re-integrate an annual 3,900 extra tonnes of recycled plastic into the loop for new milk bottles.
Coloured plastic is currently processed separately from clear recycling. Therefore, the blue, green, and red milk caps signifying whole, semi-skimmed, and skimmed milk have traditionally been disposed of separately from the body of a milk bottle.
In response, around 425 million bottles of Tesco's milk are set to be packaged in transparent caps every year, with consumers encouraged to squash and crush their empty bottles, then replace the lid to prevent its separation from the rest of the pack. This is hoped to ensure that they can be repeatedly recycled back into new bottles.
Taking effect across all Tesco stores, the change will apply to four, two, and one-pint bottles of milk. Instead of caps, coloured block labels around the main bottle of milk will identify each variant of milk.
The transition is also expected to contribute to Tesco's 4Rs strategy for plastic and packaging, which seeks to remove plastic wherever possible, reduce where it is not, roll out reusable solutions and recycle the remainder. It is already said to have removed 100+ million extra lids from products like wipes, creams, yoghurts, and desserts, amongst other developments.
"Ensuring our packaging is as sustainable as possible is really important to us, and customer feedback on our trial of these new clear milk caps has been overwhelmingly positive," said James Waddy, category director for Dairy. "We will continue to look for ways to improve the packaging of our products, and make it even easier for customers to recycle at home."
Asda made its own transition into clear caps for its own-label fresh milk packaging this summer. This is expected to recycle 207 million plastic milk caps every year and enable 268 tonnes of rHDPE to be turned into new bottles.
Waitrose previously conducted its own trial for transparent milk caps and subsequently made the decision permanent across its stores last year – as did Co-op, which anticipates the removal of all coloured milk bottle caps from its shelves.
If you liked this article, you might also enjoy:
The Lidl approach to packaging sustainability
How did Brazil achieve its 100% aluminium can recycling rate – and can it be replicated in the EU?
Experts have their say on the EU's Packaging and Packaging Waste Directive revisions
A deep dive into the most important packaging sustainability trends and solutions