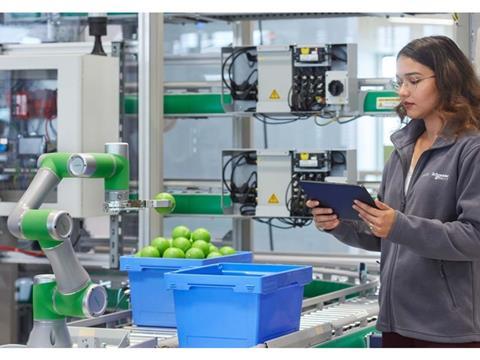 Schneider Electric has revealed its Lexium cobot, a collaborative machine designed to handle strong payloads, lower operational downtime, and ease the workloads of human operators.
Downtime caused by labour shortages are currently thought to cost factories up to 20% in productive capacity, according to the International Society of Automation. The Lexium cobot seeks to remedy this, minimising downtime while offering capabilities that are not thought to be possible when using conventional industrial robots.
Each model comes with collision detection, rounded edges, and overall low weight in an effort to optimise operational safety. In turn, the machinery is thought to save between 30% and 40% of space in a plant compared to traditional industrial robots as it negates the need for additional safety equipment.
Schneider Electric goes on to claim that, due to its small footprint, integrating the cobot into industrial plants requires less time and money and minimal changes to existing production layouts. EcoStruxure – the company's IoT-enabled, plug-and-play, open, interoperable architecture and platform – can apparently be seamlessly integrated into the Lexium's operations to reduce design, development, and commissioning time, thus speeding up and simplifying machine delivery and startup.
The cobots are thought to be ideal for easing heavier, repetitive, and/or complex tasks as they can work alone in standard configurations and reduce operators' workloads. Varying in size and working radius, they are said to handle payloads between 3kgs and 18kgs.
They also offer freedrive and graphic programming to help operators change applications and adapt quickly to changes in the production process, as well as offering flexibility in commissioning.
Mike Teller, Global OEM Strategy and Sustainability Leader at Schneider Electric, said: "The release of the Lexium cobot to the market marks a crucial step in next-generation robotic systems. Traditional industrial robotic systems must be designed into processes from day one.
"Although they can be very effective at accurately and consistently performing operations which are repetitive and arduous for workers, their speed and power make them unsuitable to work alongside people.
"The Lexium cobot, on the other hand, is intentionally designed to work with people, and offers a fast return on investment, easy integration without the capital costs of major process rework, and helps make plant more agile, productive, and safe environments."
OMRON revealed its PLC-based cobot palletising solution in March with the aim of lowering programming time and optimising the flexibility of production processes.
Meanwhile, ABB's SWIFTI CRB 1300 industrial collaborative robot claims to offer palletising and pick-and-place and an expanded load-handling capacity of up to 11kg in a development hoped to bridge the gap between industrial and collaborative robots.
If you liked this article, you might also enjoy:
McDonald's Director of Sustainability in Europe on the company's approach to packaging sustainability
McKinsey on whether or not on-pack sustainability claims affect consumer spending
Perspectives from industry-leading experts on the EU's Packaging and Packaging Waste Directive revisions
A deep dive into the most important packaging sustainability trends and solutions