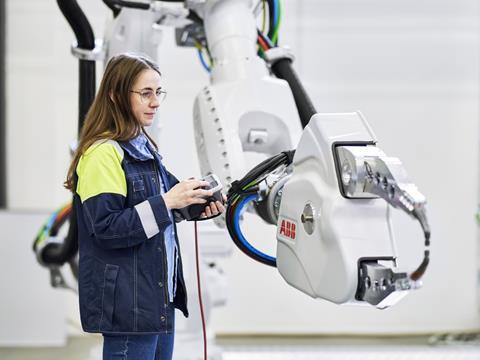 ABB Robotics has introduced four new models and 22 variants into its robot range – offering up to 20% energy savings, payloads ranging from 150kg to 310kg, and reach from 2.5m to 3.2m.
ABB's OmniCore controller is said to drive the energy efficiency of the range, with the lighter robot design thought to result in 20% savings in energy; it also offers high motion control accuracy. ABB's TrueMove and QuickMove motion control technology reportedly provide repeatability with a minimum of 0.03mm deviation.
As such, the capabilities are thought to facilitate spot welding, laser welding, screwdriving, and riveting, amongst other complex tasks, to bring high-quality assembly to automotive manufacturers.
The new large robots – including the IRB 6710, IRB 6720, IRB 6730, and IRB 6740 – made their debut at Automatica 2023 between 27th and 30th June. A fully functional battery production cell at ABB's stand powered the robots to perform spot welding tasks and load and unload EV battery tray parts with one of ABB's fully autonomous mobile robots.
"Sustainable production is a major priority of automotive manufacturers, with 78 percent of companies identifying it as important to their business and a further 77 percent identifying it as a priority for their customers," said Marc Segura, president of ABB's Robotics Division. "ABB's four new robots offer 22 variants and energy savings of up to 20 percent, responding to our customer's needs; offering more choice and greater flexibility for more sustainable production.
"These new robots will help our customers build resilience across a range of industries including automotive, general manufacturing, foundry, food and beverage and logistics."
"Our new robot range meets the needs of the rapidly growing electric vehicle (EV) industry," continued Joerg Reger, managing director of ABB Robotics Automotive Business Line. "As manufacturers ramp up production of EVs and batteries, they can choose from a wide range of ABB robots to ensure they have the right variant to handle batteries of varying sizes, from individual cells and modules to complete packages.
"They can also perform tasks such as high-precision car body assembly and spot welding and enter restricted areas within a vehicle to install seats or dashboards."
Earlier this year, ABB released its SWIFTI CRB 1300 industrial collaborative robot as a contribution to bridging the gap between industrial and collaborative robotics. Its load-handling capacity was expanded up to 11kg and it offered features like palletising and pick-and-place.
Its RobotStudio robot programming and simulation software has also been unveiled in the hopes of facilitating flexibility, transparency, and real-time collaboration in virtual robot cell design testing.
If you liked this article, you might also enjoy:
The Lidl approach to packaging sustainability
How did Brazil achieve its 100% aluminium can recycling rate – and can it be replicated in the EU?
Experts have their say on the EU's Packaging and Packaging Waste Directive revisions
A deep dive into the most important packaging sustainability trends and solution