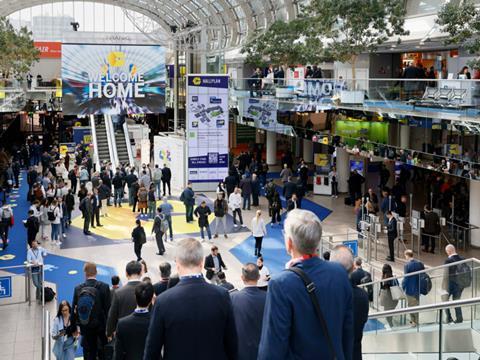 Not many things can beat the power of a trade show, especially when it comes to showcasing innovations and engaging with international visitors. Syntegon attended interpack 2023 after several years of absence, and in this article, one of its product managers, Martin Boutkan, reflects on the key take-aways.
What is the importance of interpack to Syntegon and companies like it, and what was it like not having an in-person interpack for the best part of seven years?
A live show is always a valuable opportunity to network with customers and create trust in technological advancements, whether it is interpack or any other trade show. For the last few years, we had to rethink our approach to customer engagement. We adapted to new communication formats such as webinars or video demonstrations during the pandemic.
They helped us stay in touch with customers we could not meet, and who would probably never have come to the Netherlands or Germany. We were successful with those tools, but from a personal perspective, I must say that nothing beats the communicative value of real-life trade shows and face to face meetings.
Not only do they allow us to network with customers. They also help us build trust in our technologies – because after all, seeing is believing. Customers see our machines in action and can get direct feedback on any questions they might have while enjoying the trade show. Our trade show presence also boosted our visibility: with the number of visitors that interpack gathers – we are speaking of 143,000 people from 155 countries – the show was a unique platform to show our products to the world.
In 2023, this was particularly useful for us, because we launched our new SVX series of vertical bagging machines with applications in many different (mainly food) industries, such as frozen food and confectionery. After all, at interpack people come to see innovations like the SVX and want to be positively surprised. Judging by the visitors' feedback and the fruitful exchange with industry representatives, we think that is what we achieved at interpack. Of course, we created some awareness before the show, but we didn't reveal too much. This allowed us to have all eyes on the machine itself and on Syntegon's engineering expertise. From my perspective, there is no alternative to in-person trade shows.
What were the key talking points and themes that you experienced at interpack 2023 – and what are your own thoughts on these?
The internet of things, or IoT, hygiene, and sustainability were major topics. They have been dominating public discourse and trade shows for some time now. But we noticed a major shift in perspective and implementation: while several years ago those were merely buzzwords or theoretical concepts, more and more industry players are pushing to the fore with actionable solutions – including ourselves.
Especially regarding data acquisition and monitoring, a lot has changed: we have not only introduced cloud-based monitoring and analysis softwares like Synexio. I have the strong feeling that companies are less hesitant to store their data in the cloud than they used to.
Food producing companies, from the meat to the frozen food, confectionery, and snacks industries, have accepted the need for data collection and evaluation to optimise their businesses. They are ready to take that road and harvest the benefits because they know this is the future of production.
And as customers are willing to do so, they are creating new service opportunities for equipment manufacturers like us. The way I see it, data-related services have established themselves as the "new normal".
Hygiene has also been a mainstay in the food sector, but it has conquered industries that weren't as prone to contaminations and hygiene issues as others. While meat producers have always been oriented towards maintaining strictest hygiene standards, companies with dry production environments might have been less so.
However, nowadays even confectionery or snacks packers feel the obligation to increase their quality standards due to changing consumer or regulatory requirements. Our equipment mirrors this development: hygienic design is a default setting of the packaging machines across our portfolio.
This means to avoid hollow spaces and surfaces that are prone to product build-up, for example, and to integrate components with the appropriate IP level for the required cleaning method. For this to happen, the right material must go hand in glove with an appropriate design.
Talking about sustainability, we observe unabated interest – at interpack as well as in everyday business conversations. And it involves much more than just technology. Of course, alternative packaging materials and machines that can process them play a vital role.
At the same time, food producing companies need guidance on those topics, e. g., when it comes to choosing the right packaging materials, the matching machines, or tackling the different steps to switch from conventional to a more sustainable production.
This is why consultancy has become a part of day-to-day interactions as well as of our portfolio. But from my perspective, this is only one side of the coin. Sustainable production requires customers, packaging material producers, and equipment providers to join forces. They have to blend different areas of expertise to be successful.
How would you summarise Syntegon's experience at this year's interpack? What was the feedback like on the products that you were showcasing?
It was excellent. We think it was the best show ever for us as a company, and I'm not exaggerating. We took marketing and communications to a new level – also due to a new product launch. From multi-channel campaigns before the show to sensory experiences with booth screens and live demonstrations, we didn't miss any opportunity to get our message across.
Just like the shift in perspective regarding the three topics mentioned earlier, we witnessed a shift in perspective in running a trade show. Seven years ago, most of what we did in 2023 might have seemed too bold, even daring. In 2023, and after such a long absence from interpack, this was the right thing to do. It was the right time to be bold.
After all, we were at a real show to explain our motives – and we are glad that visitors didn't think of this as brash, put as a display of pride. They saw that real people are driving the campaign and valued the novel approach.
For the next show – what advice would you give to other companies who would like to have a successful and meaningful time at interpack?
There is room for the next big thing. Start developing groundbreaking technology now and show it. It will build your brand but also contribute to a sustainable business. One thing that comes to my mind is autonomous production, e. g. via collaborative robots, or cobots for short.
They can be put to good use in packaging processes, for example to fill blanks into cartoners or handling the film reels of bagging machines. We demonstrated this at interpack and were approached by many visitors. They had witnessed the trend at some point and were eager to know more about it. I think this is the road towards innovation in the next years – much more for efficiency and ergonomics reasons than for hygiene.
Cobots do away with human limitations and can also help to alleviate the labor shortages that most industries are facing. Where tasks are too tedious or even dangerous, or where real people are lacking, there will be a cobot to fill the gap.
If you liked this article, you might also enjoy:
The Lidl approach to packaging sustainability
How did Brazil achieve its 100% aluminium can recycling rate – and can it be replicated in the EU?
Experts have their say on the EU's Packaging and Packaging Waste Directive revisions
A deep dive into the most important packaging sustainability trends and solutions