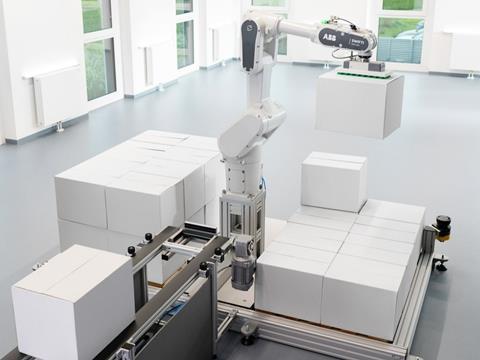 ABB has released its SWIFTI CRB 1300 industrial collaborative robot, featuring an expanded load-handling capacity of up to 11kg and such features as palletising and pick-and-place in a solution expected to bridge the gap between industrial and collaborative robots.
Said to reach a top speed of 6.2m/s, the solution offers payload options from 7kg to 11kh and reaches from 0.9 to 1.4, for which reason its capabilities are also reported to include higher payload tasks like screwdriving. Its additional protection against dust and moisture, said to reach an IP67 rating, also makes it ideal for demanding applications such as machine tending, according to ABB.
Its collective capabilities and utilisation of ABB's OmniCore C30 and C90XT controller are thought to make it up to five times more precise than other cobots of its class and improve production efficiency by up to 44%. It can reportedly be applied to repeatable tasks and handle up to thirteen boxes per minute in a typical palletising application, with the company suggesting that nine boxes are the standard for machines of this kind.
ABB's SafeMove collaborative safety software also comes with a laser scanner, which intends to enable safe collaboration and general operator safety while negating the need to lose space and money installing protective fencing or other barriers. The scanner enables the software to automatically slow or stop the robot if it detects a worker in the area and restores movement when they move away. The cobot's status can also be ascertained through the protective measure of a built-in interaction status light.
SafeMove's software add-ins allow the integration of the scanner and software using the handheld FlexPendant operating unit in a process that claims to be quick and simple. Similarly, ABB's new Wizard Easy Programming software is based on simple graphical blocks and is expected to allow non-specialists to set up the robot, although lead-through programming is also possible.
"Our customers are looking to robotic automation to make their processes more flexible, efficient, and resilient, helping to counter labour shortages by enabling their employees to perform more value-added work," said Andrea Cassoni, managing director for Global General Industry Robotics at ABB. "The latest addition to our SWIFTI family is a highly accurate, high payload cobot that's up to six times faster than other robots in its class. This means it can be used by both SMEs and large manufacturers looking for collaborative automated solutions to achieve new levels of flexibility and productivity."
The cobot shares similar features to SICK's new Smart Box Detection system for its deTec4 Safety Light Curtain with its easy installation and intelligent pattern recognition, which allows the system to differentiate cuboid objects from human operators.
Other innovations from ABB include its five axis Delta robot, which hopes to increase the speed and efficiency of packaging lightweight products on factory lines; and the new cloud-enabled functionality incorporated into its RobotStudio programming and simulation software.