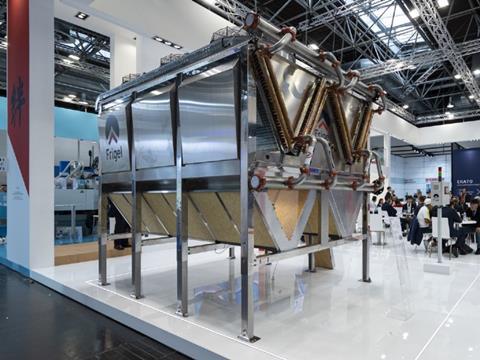 Frigel Group aims to reduce cycle times, maximise productivity, and save both energy and water with its new range of process cooling solutions for plastic manufacturing in packaging, pharmaceutical, automotive, and other industrial applications.
Set to be displayed at Fakuma 2023, the International Trade Fair for Plastics Processing, Frigel's Microgel SYNCRO is a new machine-side unit expected to transform the temperature control method in injection moulding applications. Reportedly lowering cycle time by up to 40%, it achieves this reduction through digital synchronisation with the moulding machine to reduce cooling time only – thus negating the need to modify other moulding parameters.
Instead, the unit communicates with the press but remains autonomous, and is apparently easy for operators to implement. It is said to maintain the surface quality, dimensional characteristics, and mechanical performance of the finished product.
The Microgel SYNCRO product line features over ten models and, according to Frigel Group, offers cooling capacities from 16 kW to 56 kW, alongside heating capacities from 12 kW to 24 kW. Unlike traditional methods, it supplies cold water to the mould during the cooling phase only, which is thought to reduce its duration.
As such, it claims to increase the productivity and profitability of the dedicated production cell against an investment with an average payback time of less than six months.
The new RSY Microgel Syncro is set to be launched with its own brand and identity, seeking to 'Establish a New Technology Standard'. It can apparently facilitate an increase in productivity of up to +60%.
The Ecodry MDK Series is set to expand the Adiabatic product family line, seeking to enter small to large plastic factories as a flexible configuration of modular adiabatic solutions. The new PADs, modular design, and wide and deep configuration introduced in Frigel's LDK range have also been implemented into this range.
MDK features COOLPAD, a high-efficiency humidification system, and a new generation of EC fans combined with a more effective dry cooler in pursuit of a compact yet powerful adiabatic cooler product line. It is designed to integrate easily into existing Ecodry 3DK systems while seeking to address energy efficiency, the preservation of raw resources like water, and other sustainability metrics.
The new centralised closed-circuit Adiabatic Cooler Series features enclosed chambers and patented booster cooling technologies and is intended to replace older cooling tower technology. By seeking to use less kW of electricity per kW of cooling and reduce water usage by up to 95%, its design and development hopes to improve all KPI linked with the environment.
NETGEL 3PR 4.0 is an Industry 4.0 product platform for intelligent central system control – covering the entire cooling system, including parameters, functions, and alarms, in real time. Frigel states that the solution meets supervision and management requirements for the whole system from a single, unique control panel.
Customers can choose between the two Lite and Premium versions of the system, depending on the size of the system and equipment they need to control. Their full native connectivity to MiND and its new Human Machine Interface (HMI) are set to offer a 'flawless' user experience and compatibility with Industry 4.0 architectures – apparently enabling easy visualisation and process diagrams of the connected equipment, dashboards for main parameters, performance graphs, and alarm management and history.
MiND 2.0 is another Industry 4.0 central system and machine-side Web Interface and Monitoring Platform. It intends to help companies meet Industry 4.0 and I IOT standards.
Providing a supervision and maintenance tool for all working parameters and events, it registers the performance and energy consumption of every component of a cooling system, both locally and remotely, through a multifunctional user interface and user-friendly webpage.
Meanwhile, the THERMOGEL TDK Series features high precision Single Zone pressurised water TCUs reaching up to 120°C for applications in various technical moulding sectors wherein accuracy, repeatability, and process control are necessary for the profitability of the injection moulding cell.
The units are equipped with 'reliable' features and redundant safeties for operation across the temperate range and are thought to be fully adaptable to any moulding condition. Complete process monitoring and data recording can be achieved with flow meter options and connectivity to MiND or other Industry 4.0 architectures, according to Frigel.
Additionally, the Microgel RS Series is a full range of high-performance Single (RSM) and Dual Zone (RSD) TCUs with booster pumps and integrated portable chillers. The machine-side temperature control units are designed for moulding throughputs ranging from 10 to 240 kg/hr.
Upgrades in temperature accuracy over the entire control range ranging between -5°C and 90°C are amongst its reported benefits, alongside functionalities, pumping performance, and overall energy efficiency. It also offers powerful pumps and precise temperature control, both said to enable long-term high performance and the improvement of product quality with minimal cycle cooling times.
The RS range also comes with additional configurations specifically designed for Packaging (RSP) and Extrusion (RSB) – this includes flowmeters, VFDs, and return/remote temperature sensors, which are said to allow for full process control capability. Its new user interface also allows for full connectivity and interoperability via the MiND platform, Frigel says.
At Pack Expo 2023, Sidel will showcase palletising systems, a new software suite, and complete packaging lines for cans, glasses, pouches, and other packaging types in the beverage, food, home, and personal care sectors.
Also, Schneider Electric hopes to handle strong payloads, lower operational downtime, and ease the workloads of human operators with its new Lexium cobot.
If you liked this article, you might also enjoy:
The Lidl approach to packaging sustainability
How did Brazil achieve its 100% aluminium can recycling rate – and can it be replicated in the EU?
Experts have their say on the EU's Packaging and Packaging Waste Directive revisions
A deep dive into the most important packaging sustainability trends and solutions