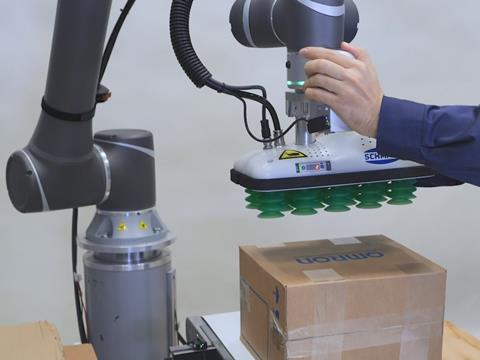 OMRON has unveiled a new PLC-based cobot palletising solution with the goal of reducing programming time while meeting industrial demand for more flexible production processes.
According to OMRON, collaborative robots can fit into smaller workspaces as well as cover heavy lifting and repetitive tasks on behalf of operators, working alongside them without the need for additional safety fencing. As such, the palletising solution – based on OMRON's NX1 series modular machine controller with a specialised function block – aims to provide such a solution to customers while optimising its simplicity and speed.
Its benefits are said to include quick pallet pattern definition for quick changeovers, easy step-by-set set-up, calibration by teaching, and a comprehensive production dashboard. It is expected to enable easy expansion and integration of additional functionality due to its flexibility.
Additionally, the NX machine controller communicates directly with the cobot controller to handle various input and output devices and tools, including a gripper, pillar, conveyor belt, safety components, sensors, and servo motors. Therefore, the complete sequencing can be performed from the PLC. The solution can also be connected to a human machine interface for operation.
Further perks reportedly include reduced engineering costs due to its flexibility and speed of deployment; a wizard-based interface for easy programming; automatic calculation for regular pallets and recipe management command; and a payload capacity of up to 20kg with the OMRON TM20 cobot.
"One of the main challenges in palletising applications today is the complexity involved in programming the various types of pallet patterns," says Fernando Vaquerizo, Fixed and Cobots Product marketing manager at OMRON Europe. "This solution significantly reduces programming time and makes it easy for the operators to make changes.
"I'm very excited about this solution that was developed in collaboration with our Automation Center in Barcelona. We've made the most of the extensive application experience that our engineers have accumulated over the years."
In related news, Sidel's RoboAccess_PalS palletising unit combines robotic and cobotic technology to replace manual operations with a compact and operable solution in the food, home, and personal care sectors.
Meanwhile, ABB's SWIFTI CRB 1300 industrial collaborative robot offers features such as palletising and pick-and-place in a solution set to bridge the gap between industrial and collaborative robots.