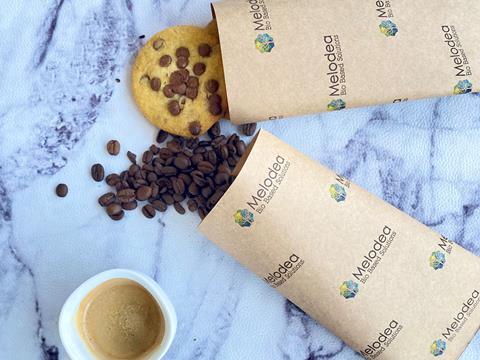 We do not usually cover straightforward barrier film developments in the AIPIA newsletter as there are many versions, and in our view, there is nothing particularly exceptional about packaging with barrier features. But Melodea, a new member of AIPIA, based in Israel, offers recyclable barrier coatings which are somewhat different, and certainly smart!
The company derives its raw material base from cellulose, which it says is the most abundant biopolymer on earth and one AIPIA has championed as a potential basis for antimicrobial/antibacterial packaging films. The technology creates Cellulose Nano Crystals (CNCs) which provide plants with extraordinary strength and that can be utilized as a building block for the enhancement of existing materials and for the production of novel eco-friendly materials, says Melodea.
The company produces two main products: MelOx™, a high-performance, plant-sourced barrier coating that protects packaged products from oxygen and oil and grease transmission, and VBcoat™ that protects packaged goods from water vapour and oil and grease transmission. It has developed a unique technology for the extraction and industrial production of CNC from wood pulp and paper production side streams.
Melodea sources its barrier coating material for packaging entirely from plant-based materials. The innovative solution helps steer paper and packaging producers toward more socially responsible packaging routes and will enable them to meet sustainability goals more quickly, it says. The coatings are recyclable and do not contribute to waste pollution.
The company applies proprietary technology to produce the materials, for example, from wood pulp sourced from trees grown in industrial forests. These materials can also be a carrier platform for introduction and dispersion of other active nanoparticles for modification of optical properties, gas barrier, active catalysts and more. From a simple additive to complex composite foams, from ultrathin coatings to thick films with integrated properties, CNCs can be crafted to suit the application required, according to Melodea
These water-based products can be applied as a coating to various substrates, including paper, paperboard, bioplastic, and mono-plastics. It serves companies across the packaging value chain, from paper and packaging producers to consumer goods manufacturers in various industries such as food, pharma, and agriculture, it claims. The high-barrier coatings can be tailored to a broad range of packaging formats, such as pouches, lids, and moulded pulp products such as trays and plates for short and long shelf-life storage.
Melodea says that its products have the required regulatory approvals and sustainability certificates and are completely non-toxic for people and the environment, while also being PFAS-free. Once done with the package, the company claims that consumers can simply throw it into the recycling bin.
This article was created in collaboration with AIPIA (the Active and Intelligent Packaging Industry Association). Packaging Europe and AIPIA are joining forces to bring news and commentary about the active and intelligent packaging landscape to a larger audience. To learn more about this partnership, click here.