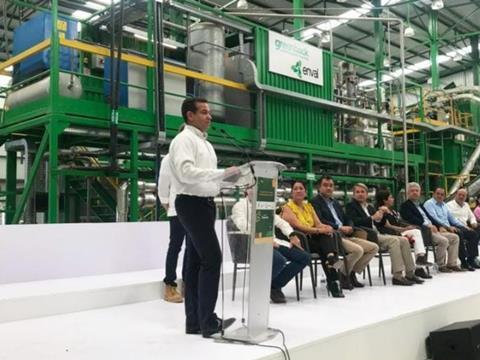 Nestlé Mexico and Greenback Recycling Technologies are utilising Enval Limited's advanced recycling technology to turn hard-to-recycle plastics into pyrolytic oil at a newly-opened recycling plant.
With the project based in Cuautla, the plant currently contains one Enval module, which is set to process the flexible plastic packaging waste generated by 250,000 people every year. The waste will undergo a reportedly low-emission recycling process, with the raw material supplied to a currently unannounced petrochemical company and produce new, food-grade plastic packaging.
Furthermore, this process apparently enables the recycling of aluminium in multi-layered flexible packaging.
Greenback's proprietary eco2Veritas Circularity Platform collects key data throughout the recycling process, such as the origins of its recycling and the amount of material processed. The neutralised waste receives a certification at the end of the process in order to re-enter the loop.
Nestlé Mexico was the financing partner in the lighthouse project. Going forward, Greenback has scaled out plans to install Enval modules in other Mexican facilities and expand it across Latin America and other regions.
"We are very proud to see for the first time an Enval module operating commercially with real post-consumer waste that would otherwise have ended up in a landfill, said Carlos Ludlow-Palafox, CEO at Enval. "It's been many years in the making but all the experience that we've gained with our demonstration plant in the UK has been translated into a modular design that can quickly be deployed anywhere in the world.
"Our plan, together with Greenback, is to install many modules around the world to prevent thousands of tonnes of plastic waste going to landfill or, worse still, to our rivers and oceans."
Greenback CEO Philippe von Stauffenberg explained at the inauguration event: "I founded Greenback to reduce the environmental impact of the growing amounts of plastic packaging that is not recycled. We have created the first industrial, fully circular value chain for flexible post-consumer packaging. With our voluntary extended producer responsibility programme, the consumer goods companies contract Greenback to pay collectors and sorters to deliver previously worthless plastic waste in exchange for neutralisation certificates.
"We are proud of this partnership. We know that only by working together across the value chain, we can achieve a real circular economy that contributes to the health, safety and livelihoods of the local communities."
"We are very proud to inaugurate this pyrolysis oil plant that will allow us to spearhead testing new methods to handle post-consumer urban waste in Mexico," concluded Nestlé Mexico's executive president, Fausto Costa. "It is a well-known fact that the success of packaging materials in the circular economy depends on having a solid collection, sorting and recycling infrastructure and the design of the packaging to be recycled. Today, as we partner with Greenback Recycling Technologies, we take another step in making this a reality."
Late last year, SABIC and Scientex worked to chemically recycle 'ocean-bound' plastic waste into feedstock for polypropylene production, while ARCUS Greencycling Technologies signed an agreement with BASF to supply it with pyrolysis oil derived from mixed plastic waste.
Meanwhile, Borealis aims to meet customer demand for environmentally friendly packaging solutions with a new line in its portfolio of polyolefin plastomers and elastomers based on renewable feedstock.
If you liked this article, you might also enjoy:
McDonald's Director of Sustainability in Europe on the company's approach to packaging sustainability
McKinsey on whether or not on-pack sustainability claims affect consumer spending
Perspectives from industry-leading experts on the EU's Packaging and Packaging Waste Directive revisions
A deep dive into the most important packaging sustainability trends and solutions