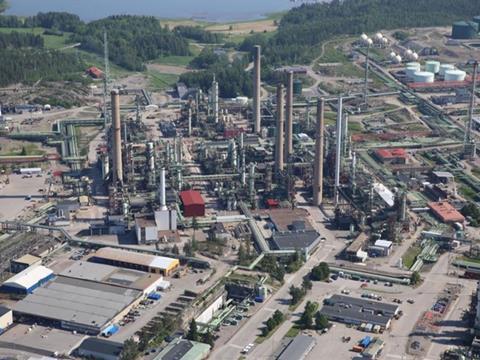 Neste has made a $111 million investment to upgrade its refinery in Porvoo in an effort to recycle 150,000 tons of liquefied plastic waste into petrochemical feedstock every year.
This final investment decision is set to upgrade Neste's facilities for liquified plastic waste and create feedstock for the pre-treatment, upgrading, and refining of new plastics – thus increasing the company's flexibility in processing lower-quality plastic waste.
New assets are set to be built, while existing assets are expected to be retrofitted and upscaled with fast and efficient recycling in mind. The upgraded liquified plastic waste produced will be processed in the conventional refinery and hopes to replace a portion of the fossil resources processed at the refinery.
The investment fits into Neste's wider PULSE project, which previously received a €135 million EU Innovation Fund grant and targets a total capacity of 400,000 tons per year.
Markku Korvenranta, executive vice president of Oil Products at Neste, says: "We have developed our capability to process circular raw material at the Porvoo refinery over the recent years and are now set to build a respective facility. The new facility processing 150,000 tons of liquefied waste plastic, is planned to be finalized in the first half of 2025."
A series of industrial-scale processing trials testing the use of liquified plastic waste as a drop-in solution for plastic production came to an end at the beginning of 2022. The Porvoo facility also aspires to phase crude oil out of its operations by the mid-2030s.
Recently, Nestlé Mexico and Greenback Recycling Technologies opened a new recycling plant to turn hard-to-recycle plastics into pyrolytic oil using advanced recycling technology from Enval Limited.
If you liked this article, you might also enjoy:
McDonald's Director of Sustainability in Europe on the company's approach to packaging sustainability
McKinsey on whether or not on-pack sustainability claims affect consumer spending
Perspectives from industry-leading experts on the EU's Packaging and Packaging Waste Directive revisions
A deep dive into the most important packaging sustainability trends and solutions