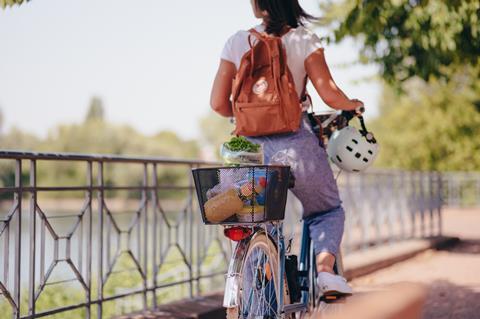 Borealis has unveiled a new line in its portfolio of polyolefin plastomers and elastomers based on renewable feedstock – aiming to meet customer demand for high-quality, high-performance, and environmentally friendly packaging solutions.
According to Borealis, the Bornewables line utilises a mass balance approach and is produced with ISCC PLUS-certified renewable feedstock sourced from waste and residue streams, including vegetable oil products and used cooking oil. It is said to offer the same material performance as fossil-based polyolefins without relying on unsustainable feedstock, and apparently reduces carbon emissions in the process.
Borealis' Queo portfolio of plastomers and elastomers is produced using proprietary Borceed technology at its production site in Geleen, the Netherlands, which also received ISCC PLUS certification in March. Alongside flexible and rigid packaging applications, the materials can be used in housewares, wire and cables, and automotive contexts, and they aim to bridge the performance gap between conventional plastics like PET and conventional elastomers such as EPDM.
By producing 'circular' plastomers and elastomers, Borealis hopes to increase its share of circular products and solutions to 600 kilotonnes per annum by 2025. Making use of renewable feedstock is also a contribution towards Borealis' Circular Cascade approach, in which the company seeks to facilitate the plastic industry's transition into circular production.
"The Bornewables line of Queo is a value-add solution that will enable Borealis' customers to continue to benefit from Queo's unmatched sealability, flexibility, compatibility and processability properties, while also meeting their sustainability goals," says Britta Warnke, vice president of Commercial, Advanced Products and Mobility at Borealis.
"The Bornewables line of Queo plastomers and elastomers strengthens our position as a global circular economy leader," adds Chris McArdle, vice president of Circular Economy Solutions and New Business Development. "This launch marks another step on our EverMinds mission to lead the transformation to a circular economy for plastics and again underlines how we re-invent essentials for sustainable living."
In a collaboration with PACCOR last year, Borealis manufactured mono-polypropylene lids and tubs for ice cream using ISCC PLUS certified renewable feedstock; and Henkel utilised BASF's certified biomass balance approach to implement renewable feedstock across its Laundry & Home Care and Beauty Care businesses – a move expected to save approximately 110,000 tonnes of fossil-based feedstock every year.
In January, Borealis acquired a majority stake in chemical recycling solution provider Renasci in a bid to source chemically recycled feedstock for its own operations.
If you liked this article, you might also enjoy:
McDonald's Director of Sustainability in Europe on the company's approach to packaging sustainability
McKinsey on whether or not on-pack sustainability claims affect consumer spending
Perspectives from industry-leading experts on the EU's Packaging and Packaging Waste Directive revisions
A deep dive into the most important packaging sustainability trends and solutions