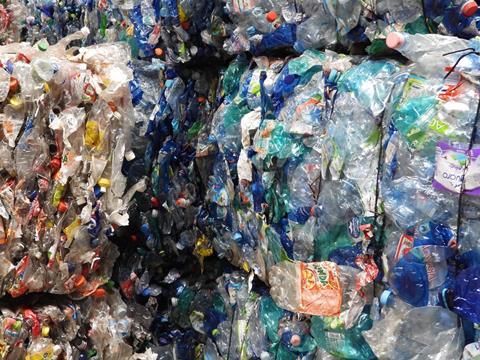 Aramco, TotalEnergies, and SABIC have converted oil derived from plastic waste into ISCC+ certified circular polymers in the hopes of creating a domestic value chain for the advanced recycling of plastics into circular polymers in Saudi Arabia.
In a reported first for the Middle East and North Africa, the plastic waste-derived oil (PDO) was processed at Aramco and TotalEnergies' jointly-owned SATORP refinery in Jubail, Saudi Arabia. SABIC affiliate PETROKEMYA then utilised the PDO as a feedstock to produce the certified circular polymers.
Although unsorted plastics can become a roadblock in mechanical recycling processes, it is claimed that this process is compatible with non-sorted plastics – a benefit that hopes to address challenges associated with end-of-life plastics.
The SATORP refinery, PETROKEMYA, and Aramco's Ju'aymah NGL Fractionation Plant have all received ISCC+ certification, with the companies stating this will 'assure transparency and traceability of the recycled origin of feedstock and products.'
"This achievement illustrates the importance of the petrochemical sector in creating more sustainable products and solutions," said Mohammed Y. Al Qahtani, president of Downstream at Aramco. "Our aim is to create circular solutions for plastic waste, while also making progress on our ambition to achieve net-zero Scope 1 and Scope 2 greenhouse gas emissions across our wholly-owned operated assets by 2050.
"By leveraging spare capacity of existing infrastructure, we aim to produce circular products that could be scaled up at low cost. Aramco is considering multiple ways of tapping into new technologies and leveraging existing assets to support the deployment of circular, more sustainable and lower-carbon products."
Francois Good, TotalEnergies SVP Refining and Petrochemical, Africa and Middle East, continued: "This advanced plastic recycling initiative reflects TotalEnergies' ambition to concretely contribute to addressing the challenge of end-of-life of plastics. TotalEnergies, in partnership with Aramco, recently announced the investment decision for its giant petrochemical project Amiral.
"Several other circular economy projects are being studied, leveraging the partners' technical expertise and experience to further contribute to plastics recycling. It is a major pathway towards TotalEnergies' target to produce 30% of recycled plastics by 2030, and its strategy to build a multi-energy company with the ambition to get to net zero by 2050 together with society."
"SABIC is a national champion in chemicals that supports Saudi Vision 2030, ensuring sustainable future growth by focusing on environment, energy and climate," added Sami Al-Osaimi, SABIC EVP Petrochemicals (A). "This project is aligned with SABIC's commitment to avoid landfill and incineration through its innovation competencies and advanced technology.
"This project shows collaboration across the petrochemical value chain to overcome upstream and downstream challenges in circular plastics. To this end, SABIC recently announced its target of one million metric tons of TRUCIRCLE solutions by 2030, which intends to help provide our customers with more sustainable solutions."
In an opposite process, Nestlé Mexico and Greenback Recycling Technologies are using advanced recycling technology from Enval Limited to convert hard-to-recycle plastics into pyrolytic oil.
Meanwhile, SABIC worked with Scientex last December to chemically recycle 'ocean-bound' plastic waste into feedstock to produce flexible polypropylene packaging for a Malaysian noodles brand; and BASF signed an agreement with ARCUS Greencycling Technologies to purchase pyrolysis oil derived from mixed plastic waste.
If you liked this article, you might also enjoy:
The Lidl approach to packaging sustainability
How did Brazil achieve its 100% aluminium can recycling rate – and can it be replicated in the EU?
Experts have their say on the EU's Packaging and Packaging Waste Directive revisions
A deep dive into the most important packaging sustainability trends and solution