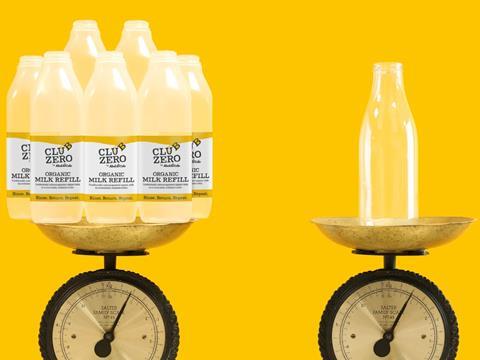 Abel & Cole has unveiled refillable, recyclable milk bottles made of 100% polypropylene – a solution anticipated to lower carbon emissions and lessen single-use plastic waste.
Although the company recognizes glass as the standard material for refillable milk bottles, being 'relatively cheap' and easy to sterilize, it notes that glass bottles are also heavy and brittle. Many dairy facilities have installed specialized filling equipment for single-use plastic bottles, it continues, but these would be expensive to retrofit for glass bottles – thus impacting the price of the final product.
Abel & Cole's Club Zero Refillable Milk bottles are thought to overcome these roadblocks while enabling multiple refills and achieving recyclability at end-of-life. With four reuses, the solution claims to halve the carbon footprint of the company's single-use milk bottles, with glass bottles expected to require fifteen returns to achieve similar savings.
Similarly, those reuses are hoped to save 450,000 single-use plastic milk bottles and 23 tonnes of plastic; this estimation is based on Abel & Cole's annual sales of 600,000 bottles and an estimated return rate of 75% based on existing data for refillable plant milk, which suggests that each bottle will be returned three times and used for four cycles.
It is also expected to save 60 tonnes of carbon annually when compared to a glass alternative – a figure that could rise to 300,000 tonnes if 90% of the 7 billion litres of milk distributed in the UK every year were packaged in a reusable plastic bottle.
Abel & Cole's bottles have undergone chemical testing to ensure their compatibility with reuse and refill. The company has also worked with MV Technical Solutions to develop a bespoke washer and tackle the challenge of washing and drying plastic bottles. Returned bottles are to be cleaned and sanitized in an eight-stage washing process tested by Abel & Cole's Technical team and the Environmental Health Organization.
The company now hopes that large supermarkets and the dairy industry will adopt its solution in pursuit of their own sustainability targets.
Earlier this year, Milk & More and Again sought to lower Tom Parker Creamery's CO2 and water footprint with a delivery and collection scheme for reusable glass bottles. The partnership was recently extended to include additional dairy products and beverages.
Milk & More is also working with Cola-Cola Europacific Partners to directly deliver, return, refill, and reuse Coca-Cola Zero Sugar glass bottles; and Coca-Cola HBC has invested €12 million into a new, high-speed line for returnable glass bottles at its Edelstal plant in pursuit of net zero emissions by 2040.
If you liked this article, you might also enjoy:
The L'Oréal approach to packaging sustainability
What steps is Apple taking to make its packaging more sustainable?
How did Brazil achieve its 100% aluminium can recycling rate – and can it be replicated in the EU?
Experts have their say on the EU's Packaging and Packaging Waste Directive revisions