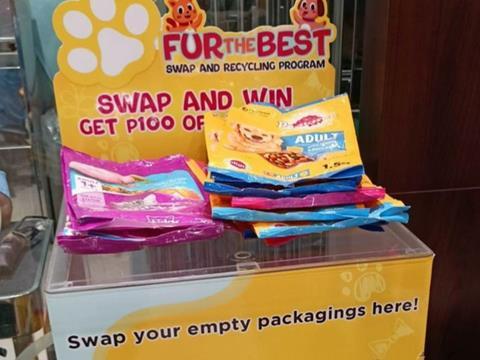 Mars Petcare, Plastic Credit Exchange (PCX) and Pet Express have launched a collection and recycling scheme for mixed post-consumer flexible pet food packaging in the Philippines.
As an extension of Thailand's "SWAP Recycling" initiative, the "Fur the Best" scheme is hoped to contribute towards Mars' goal of achieving 100% recyclable, reusable, or compostable plastic packaging worldwide, as well as reducing its use of virgin plastic by 25%.
As a result of the collaboration, consumers can return clean and empty pet food packaging in 1kg, 3kg, and 8kg sizes from the Pedigree, Iams, or Whiskas brands, amongst others, to recycling drop-off points. These are available in fifteen participating Pet Express locations in International Toyworld Inc. stores in Metro Manila, including Megamall, Mall of Asia, and Pet Express Estancia.
The collected materials will be passed on to PCX, who are set to recycle them into products such as benches for donation to pet shelters in the Greater Manila area. Meanwhile, consumers can scan a QR code to register and answer a survey, for which they will receive one daily coupon of Php 100 that can be used as a discount on the same day as swapping.
"As more Filipino shoppers are willing to shift to sustainable practices, this presents us an opportunity to invest in eco-friendly practices and take the lead in meeting consumer needs while reducing waste and increasing circularity," said Johnny Racoma, general manager for Mars Petcare in the Philippines.
"Our chances of achieving a sustainable future will be determined by how we protect our planet. As a result, sustainability activities will always be a component of our global efforts. We want to see significant development in the Philippines, where customers can join our 'Fur The Best' program."
"PCX has always advocated the need for both upstream and downstream solutions to the plastic pollution crisis," added Nanette Medved-Po, founder of PCX. "Mars' "Fur the Best" campaign is an important step to ensuring that brands are attempting specific recovery which builds a more circular economy."
A report conducted by Kantar Philippines in 2021 reported that 75% of consumers in the Philippines sought to buy from brands that would help them reduce their environmental impact. Furthermore, the country's Extended Producer Responsibility law has placed particular emphasis on the management of solid waste, especially in the post-consumer waste generated within the FMCG sector.
Mars, Incorporated previously worked with Second Life to launch the SWAP Recycling app in the hopes of encouraging consumers to return flexible and complex pet packaging in exchange for reward points and discounts on future purchases.
Dow Packaging & Specialty Plastics, W&H, and B&B also collaborated to create what claims to be a recyclable wide-format MDO-PE bag to be used for pet food packaging; and Coveris worked with Ultra Premium Direct to develop mono-material and recyclable polyethylene bags for the PROTEIN BOOST pet food product range.