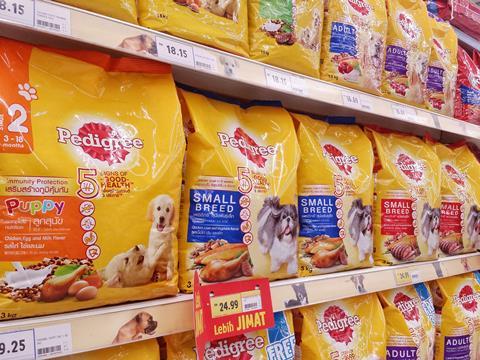 Mars, Incorporated has published its Net Zero Roadmap, an open-source action plan documenting its plans to have carbon emissions across its value chain by 2030, invest $1 billion in driving climate action, and more.
The roadmap responds to the Intergovernmental Panel on Climate Change (IPCC)'s recent findings, backed by the United Nations, that drastic action must be taken "now or never" in order to avoid "disaster".
A new survey from Ipsos, commissioned by Mars, also consulted adult participants across the UK, Germany, France, China, Japan, India, and the USA; 69% believed businesses should invest the same amount (32%) or more (37%) of their efforts into tackling climate change than current economic challenges.
Additionally, almost half of respondents held multinational businesses and governments responsible for addressing climate change.
As such, Mars has outlined its plans as an open-source strategy, hoping that other companies use the roadmap to pursue its own net zero goals – placing action over commitments, making tangible progress, and removing or offsetting all emissions with decisive action and high-quality carbon credits.
Mars intends to invest $1 billion over the next three years and continually commit financial resources wherever necessary until greenhouse gases are significantly reduced, with other emissions that cannot be eliminated balanced by removals. Its emissions footprint is currently said to match that of a country the size of Finland and the company plans to halve its carbon emissions in absolute terms by 2030, cutting out around 15 million metric tons in a target reviewed by the Science Based Targets Initiative.
In order to achieve net zero, it plans to transition into 100% renewable energy. This will involve powering its factories, offices, and veterinary hospitals with alternate energy sources – addressing energy used by its farmers, how the company sources its ingredients, and how energy is used by retailers and consumers.
Logistics will serve as another area of focus. The company will look into the electrification of vehicles, potentially utilising green hydrogen, and other methods of redesigning its networks, methods of transportation, and finding new energy sources for its operations.
It is also set to embed climate reductions into the planning of its governance and business by including it as a shareholder objective, in variable remuneration plans of senior executives, investment planning processes, its merger and acquisition strategy, and more.
Alongside redesigning its supply chains to enhance the transparency and traceability of key ingredients and prevent deforestation, Mars seeks to scale up initiatives in smart climate agriculture, including regenerative agriculture, sourcing optimisation, and a transition into renewables. It also plans to optimise its recipes to use less carbon-intensive ingredients in its products.
According to the company, it peaked emissions in 2018 and has since reduced greenhouse gases in absolute terms by 8%, or 2.6 million metric tons, against a 2015 baseline while expanding the business by 60%.
"2050 can seem to be in the distant future, but the progress we make in the next seven years is critical," said Mars CEO Poul Weihrauch. "My generation of CEOs has the ability and responsibility to deliver actual emission reductions and put business on a clear path to Net Zero by 2050.
"That's why Mars is committed to delivering a 50% reduction in GHG by 2030. We cannot wait for the economy to improve; we must push forward with investments that protect our business today and in the future.
"As I have said before, profit and purpose are not enemies. Investment in climate is not a trade-off between planet and productivity, or between environment and employment. Consumers and our Associates clearly want both – and so do we. Investing in emissions reductions is sound business policy, it is achievable, affordable, and it is absolutely necessary.
"Companies must be judged – Mars included – on the actual results we deliver against our climate plans, not just the scale of the commitment we make – just as we are judged by our boards and investors on the delivery of financial results, not the quality of our financial forecasts."
Barry Parkin, Mars chief sustainability and procurement officer, added: "Mars has always followed the science, and the science says we must cut our emissions across our full value chain by 50% by 2030. Science points us to five fundamentals that Net Zero roadmaps should consider to deliver real impact, for example that there is no place for exclusions or exceptions and that we must prioritize performance over promises.
"In preparing our roadmap, we've learned that this is both entirely possible to deliver with existing science and technology as well as entirely affordable. We can both grow our business and cut emissions. I hope our roadmap clearly and powerfully demonstrates what Mars is doing and, critically, what we believe needs to happen at scale to help tackle the worst impacts of climate change."
Earlier this year, Smurfit Kappa reported that it has reduced CO2 emissions by 43.9% since 2005, which is thought to keep the company on track for its goal of reaching net zero emissions by 2050.
Robert Taylor, director of sustainability at UPM Raflatac, also spoke to Packaging Europe about its own action plan in the pursuit of sustainable operations. This includes joining The Climate Pledge in a bid to achieve net zero by 2040 and unveiling new products that claim to offer customers a lower carbon footprint.
Similarly, Apple is seeking full decarbonisation by 2030 and working towards its own 'low-carbon' transportation and label application processes with the rollout of its new Apple Watch line. It will ship at least 50% of the combined weight using non-air modes of transport and has developed a custom, high-resolution printer that can print directly onto the back of its boxes – a method expected to cut down on 3700 metric tons of carbon emissions.
If you liked this article, you might also enjoy:
The Lidl approach to packaging sustainability
How did Brazil achieve its 100% aluminium can recycling rate – and can it be replicated in the EU?
Experts have their say on the EU's Packaging and Packaging Waste Directive revisions
A deep dive into the most important packaging sustainability trends and solutions