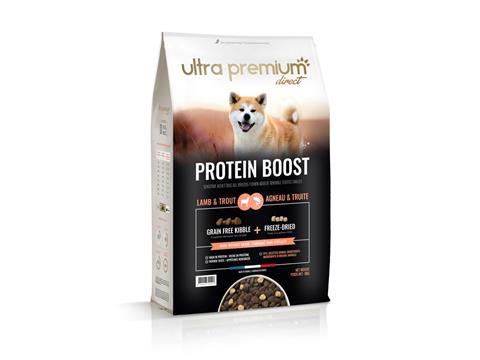 Coveris has partnered with Ultra Premium Direct, a French manufacturer of natural premium pet food, on mono-material and recyclable polyethylene (PE) bags for the PROTEIN BOOST pet food product range.
Coveris says that its MonoFlexE mono-material solution allows the PROTEIN BOOST range to be presented in premade bags manufactured from PE, which is reportedly makes the bags fully recyclable.
In addition, Coveris and Ultra Premium Direct claim that the new bag solution offers the same properties as standard PET/PE materials, including ensuring the preservation and freshness of the food and keeping all the organoleptic properties of the kibbles for better taste.
Ultra Premium Direct's pet food range combines kibbes made without cereals and freeze-dried pieces of raw chicken and trout. The company is looking to appeal to the healthy lifestyle trend among pet owners in France, as well as the growing e-commerce market, with the PROTEIN BOOST range available for purchase online from December 2021.
Philippe Poudens, key account manager at Coveris, comments: "In order to meet the growing need for convenience, we equipped our bags with a top slider to allow them to be opened and closed easily and safely.
The new range, packaged in Coveris' MonoFlexE solution, is available in two bag sizes: three kilograms and eight kilograms. According to the companies, the matte finish of the bag allows the graphic visuals to stand out, including the image of the dog belonging to French blogger Coralie, author of the Elles en Parlent blog, who promotes the new brand.
Clémence Lavenu, product manager at Ultra Premium Direct, adds: "We are delighted to collaborate with Coveris in the launch of our new PROTEIN BOOST range. With French manufacturing of our kibbles and packaging bags, we are offering a product that is 100% made in France."
The new bags will be on display at the upcoming Interzoo 2022 trade show, taking place from the 24th to the 27th of May in Nuremberg, Germany. Coveris will be at Stand 254, Hall 6.
Coveris has previously partnered with the French pet food manufacturer, Demavic, on a quadroseal bag for therapeutic pet kibble, which is also based on the MonoFlexE solution.