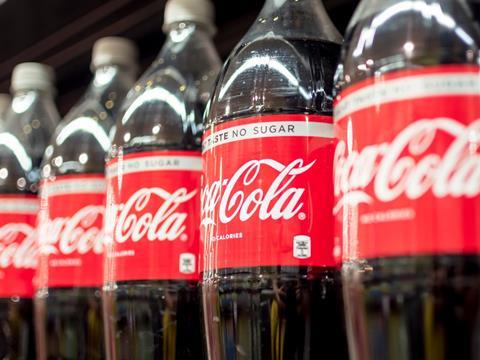 Coca-Cola Philippines reports that it has launched bottles made from 100% rPET, excluding caps and labels, for its Coca-Cola Original and Wilkins Pure brands – alongside a new sustainable packaging platform to educate consumers about tackling plastic waste.
Following its introduction of 100% rPET packaging for its 500ml Sprite bottles in 2019, it is now unveiling similar packaging for its 190ml and 390ml Coca-Cola Original and 500ml Wilkins Pure bottles. These claim to comply with both local regulations and The Coca-Cola Company's global standards for food-grade rPET packaging.
At least one Coca-Cola brand is currently said to come with 100% rPET packaging in over 40 countries worldwide, including Indonesia, Myanmar, Vietnam, and other ASEAN countries. In the Philippines, over 2,000 recycling drop off points have been established in sari-sari stores and carinderias nationwide in a bid to optimize consumer convenience and encourage participation in recycling efforts.
In turn, small storeowners are expected to earn higher incomes and have the capacity to expand their business, while the number of plastic containers ending up outside the recycling waste stream is expected to decrease. Coca-Cola Philippines claims that over 33 million bottles have been collected for recycling via the micro-retail sector in one year, with many of them apparently becoming new Coca-Cola bottles.
In collaboration with Plastic Bank Philippines, the company has activated 33 recyclable waste collection branches in Cavite and Laguna, which have apparently improved the livelihoods of informal waste sector workers and collected over 8.7 million plastic bottles since the partnership began in 2021.
"At Coca-Cola we recognize that the plastic waste problem in the Philippines is both urgent and complex," said Tony del Rosario, president of Coca-Cola Philippines. "That's why we are taking a collaborative approach to help solve this issue and build a circular economy for plastic PET in the country.
"We are committed to rolling out innovative new packaging designs, expand the reach and impact of our collection and recycling programs, and forge strategic partnerships with a range of government agencies, industry partners, and local organizations.
"We will also use our the power of our brands to engage consumers in collection and recycling initiatives and build awareness and understanding that used plastic bottles can be recycled and end up having many lives."
The company is also working to establish a pipeline of high-quality recycled material to source an appropriate amount of recycled content for its plastic packaging. Its bottling partner, Coca-Cola Beverages Philippines, and Indorama Ventures previously entered a joint venture to establish PETValue Philippines, a bottle-to-bottle recycling facility that commenced operations this time last year and anticipates the recycling of two billion pieces of collected post-consumer PET bottles every year.
The initiatives fall in line with The Coca-Cola Company's sustainable packaging strategy – setting its sights on making 100% of its packaging recyclable across the world by 2025, using at least 50% recycled plastic in all its packaging and helping to collect the equivalent of every can and bottle it sells by 2030, and facilitating a united effort to keep waste out of the environment.
A "Recycle Me Again" message is displayed on the labels of the new rPET bottles and is accompanied by a QR code. This leads the consumer to information about Coca-Cola Philippines' new recycling programme under its sustainable packaging platform, May Ikabobote Pa – in English, Bottles Can Have Many Lives – which seeks to encourage consumers and organizations alike to take action against plastic pollution.
May Ikabobote Pa involves the inclusion of 'engaging' activities on recycling at Coca-Cola's on-ground consumer events. The company will also work alongside groups and community leaders to develop educational content and rally behind sustainability-minded practices via digital-led communications.
Additionally, it will partner with 7-Eleven and Shell to implement recycling programmes set to optimize convenience and incentivize them to recycle by awarding their efforts. It is hoped that the initiatives will foster unity and remind consumers that recycling their empty plastic bottles is important.
Furthermore, Coca-Cola Philippines' Tapon to Reborn employee engagement programme intends to encourage employees across the Philippines to participate in plastic waste reduction efforts by collecting, segregating, and returning their empty PET bottles, cans, and beverage cartons to the office for recycling. These will then be sent to the PETValue recycling plant and other partner recycling facilities to become new bottles.
The initiative is expected to collect and sell 500 kilograms of PET bottles and cans, with the proceeds set to support reforestation efforts in the Lagadlarin Mangrove and Sierra Madre Forests.
In other news, Coca-Cola HBC aims to reduce 200 tonnes of plastic annually by piloting a cardboard and paper alternative to plastic shrink film for 1.5-litre multipacks of Coca-Cola, Fanta, and Sprite sold in Austria, and has invested €12 million into opening a new, high-speed line for returnable glass bottles at its Edelstal plant.
Since February 2011, Indorama Ventures claims to have recycled 100 billion post-consumer PET bottles, diverted 2.1 million tons of waste from the environment, and saved 2.9 million tons of carbon footprint from product life cycles.
If you liked this article, you might also enjoy:
The L'Oréal approach to packaging sustainability
What steps is Apple taking to make its packaging more sustainable?
How did Brazil achieve its 100% aluminium can recycling rate – and can it be replicated in the EU?
Experts have their say on the EU's Packaging and Packaging Waste Directive revisions