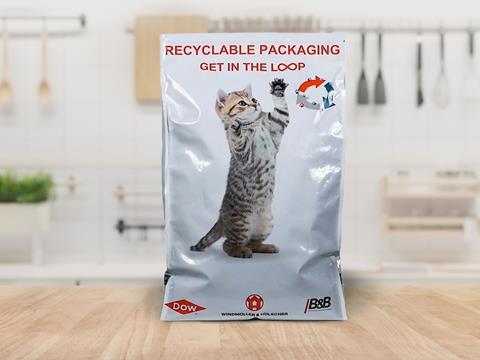 A collaboration between Dow Packaging & Specialty Plastics, W&H, and B&B has resulted in what claims to be a recyclable wide-format MDO-PE bag to be used for pet food packaging.
Said to fall in line with recycling guidelines, each bag is made with an MDO-PE film, with a thin layer of EVOH barrier over several structural layers of PE. This is thought to make the bag fully recyclable while ensuring that it is as functional and attractive as standard plastic bags.
To manufacture the packaging, films are reportedly produced using W&H's VAREX II extrusion machine with inline MDO, resulting in a final web width of 2x1260 mm and a printing speed of 400 metres a minute – a process that is apparently optimized to reduce the wastage of materials during production.
Dow's Pack Studios is said to laminate the films at an industrial scale before they are sent through B&B's SFB, a side gusseted bag machine that claims to produce 80 bags per minute. Such a figure is allegedly comparable to multi-material PET/PE structures.
"Unlocking packaging recyclability is a challenge that no one company can do alone," said Romain Cazenave, Packaging EMEA Marketing Director, Dow Packaging & Specialty Plastics. "Using Dow's ELITE, INNATE and AFFINITY high-performance resins and sealants in combination with our partners' state-of-the-art machinery technologies and know-how, has enabled us to realize the next generation of recyclable packaging to foster higher recycling rates and enable the circular economy of plastics."
"On our wider VAREX II extrusion line with inline MDO, we produce MDO-PE film optimised for the following production processes," added Dr. Lennart Ederleh, technical sales director at W&H. "Thanks to perfect flatness and excellent film quality even with this wide film format, our HELIOSTAR II rotogravure press prints at very high speeds of 400 m/min. To put it in a nutshell: Two-ups for doubled efficiency."
Coveris and Ultra Premium Direct previously packaged the PROTEIN BOOST pet food product range in mono-material, supposedly recyclable PE bags.
Mondi also planned to invest nearly €65 million in three European Consumer Flexibles packaging plants to increase the production of sustainable pet food packaging.