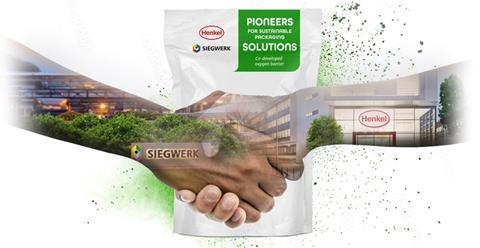 Next in our Finalist Interview series for the Sustainability Awards is Siegwerk and Henkel's oxygen barrier coating collaboration. We spoke to Alina Marm, global head of sustainability and circular economy at Siegwerk about this entry, nominated in the pre-commercialised Recyclable Packaging category.
You're a finalist in the Sustainability Awards 2023. Congratulations! To start off, could you summarise your entry, in less than 50 words?
Siegwerk and Henkel have joined forces to co-develop a printable oxygen barrier coating for plastic films. The new solution provides outstanding performance and enables mono-material flexible packaging that is easier to recycle - opening up potential to accelerate the transition to a circular economy.
Why do you think the judges were impressed with your entry? Tell us about what is innovative about your project and/or about its impact on packaging sustainability.
The oxygen barrier coating enables circularity without compromising on packaging performance and shelf life. There is a large trend towards mono-material packaging because it is easier to sort and recycle. However, with that often comes potential sacrifices of barrier layers, which is especially important to remedy when it comes to sensitive applications such as food products.
Our coating solves this problem by enabling mono-material packaging solutions with recyclability and barrier properties. With Loctite® Liofol BC 1582 and CIRKIT® OxyBar 1582, Henkel and Siegwerk introduce a 1 component barrier coating for dry food that provides excellent oxygen barrier properties. The solution has been recognized by APR and cyclos-HTP.
The coating can be printed on both flexo and gravure at machine speeds >150-200 m/min on various substrates and shows excellent transparency. It is rare for two companies who are competitors in some respects to combine their expertise in creating a solution or product, but we believe collaboration is key to innovation and progress.
When and how do you intend to launch/commercialise this innovation?
We have started trials with select customers and aim to commercialise broadly in the coming months. Trials are running at over 100 converters globally and applications have been printed recently in North America, Europe and South East Asia. Changing non-recyclable packaging structures to circular packaging solutions is a difficult task involving a lot of expertise, but we are confident we have proven the possibility and want to roll out to other regions as soon as possible.
You're shortlisted for the pre-commercialised category for Recyclable Packaging. What do you see as the key demands and challenges in relation to design for circularity in packaging?
An important demand in the larger trend towards increased circularity and sustainability is the need for solutions that enable circularity, whilst still seamlessly fitting into existing manufacturing processes. This ensures the solutions are quickly scalable and economically attractive, which results in more widespread adoption.
What do you think are the main opportunities in this area or what future innovations do you predict in this area?
As packaging design trends towards more mono-material and mono-layer structures for improved recyclability, it becomes more challenging to still meet packaging functionality requirements. That's where printed coatings come in, as they can meet these requirements without compromising the recyclability of the structure.
The winners of the Sustainability Awards 2023 will be announced at the Sustainable Packaging Summit, which takes place in Amsterdam on 14-15 November. The Summit mobilises leaders of the FMCG value chain, policymakers, NGOs, recyclers and investors to collaborate, remove barriers and identify opportunities on the road to sustainable transformation.
To learn more or register, visit https://www.packagingsummit.earth/amsterdam2023/.