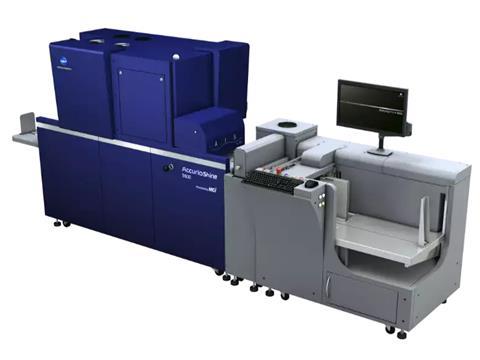 Konica Minolta has unveiled its AccurioShine 3600 inkjet spot UV coater, powered by varnish technology from MGI – a development seeking to improve the stability, reliability, and serviceability of digital printing processes for packaging applications and more.
Expanding upon the MGI JETvarnish 3D One, this digital solution utilises artificial intelligence registration technology and an LED curing system in pursuit of smarter and more environmentally friendly performance. It is designed to be compact and enable spot UV varnishing and Digital Hot Foiling without the need for screens, plates, or dies.
According to the company, it can be used in prototyping applications and full-scale production, applying 2D and 3D gloss effects alongside Digital Hot Foiling tactile effects. It claims to do so at an affordable price and through an easier process than similar solutions on the market, said to raise profit margins while offering a range of printing effects.
The AccurioShine 3600 is compatible with paper sizes of B3+, or 364mm x 750mm. It reportedly supports Variable Data Printing (VDP), and its barcode scanner can read barcodes from a pre-printed sheet that corresponds with a TIFF file already stored in the workstation – a feature that, in combination with its Automatic PDF File Converter, is also expected to print PDF files in a matter of minutes.
"The launch of the AccurioShine 3600 is a testament to our commitment towards the print industry/premium embellishments market," explains Tony Charlet, general manager at MGI Global Business. "With the shift to digital printing, more emphasis is being placed on digitalising prepress and post-press processes, alongside on-demand short-run printing.
"By combining AccurioShine 3600 with other Konica Minolta digital colour printers, our customers not only grow their business in new ways, but also add value to their customers, by providing cost-effective, impactful, premium short-run embellishments to their day-to-day print jobs.
"In the printing industry, it is not enough to only offer quality and speed at low pricing anymore, but about the added value that makes prints truly stand out. The more you can differentiate, the better business growth can be achieved. Now, thanks to the Konica Minolta AccurioShine 3600, printers can meet the demanding needs of today's printing requirements."
Canon has announced the release of its imagePROGRAF TC-20M full-colour, large-format desktop printer, which features an A4 flatbed scanner and is said to utilise less than 26W during operation and 2.4W during standby.
Additionally, Fujifilm has expanded its portfolio in recent months with both its Acuity Prime L flatbed printer for increased productivity and ROI, and its ApeosPro C series of light production digital printers with its 'world's first' high-resolution LED printhead.