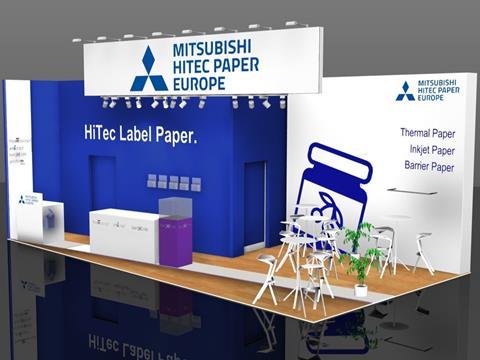 Mitsubishi HiTec Paper will reveal new coated specialty papers – including thermal and inkjet papers for label applications and barrier papers for flexible food and non-food packaging – at Labelexpo Europe 2023.
PURE for LABEL – a new thermal paper without chemical developers for label applications – is light grey in colour to distinguish it from standard thermal papers, and its opaque functional layer reacts to heat – thus revealing the black layer underneath and revealing the printed image.
An image printed onto PURE for LABEL can be archived for 40 years, according to Mitsubishi, and the paper comes in a basis weight of 67 gsm.
Meanwhile, the thermoscript LL77 series is a series of phenol-free thermal papers for Linerless labels consisting of grammages of 55, 69, and 77 gsm. This range is designed to provide customers with a special surface treatment for low silicone absorption.
Both solutions apparently offer both high dynamic sensitivity and maximum resistance to environmental influences.
Also set to be displayed at the stand are Mitsubishi's jetscript inkjet papers. The 97-gsm jetscript GS 1062 features a coated ink-receiving layer that reportedly facilitates 'excellent' colour reproduction and high colour density, even with dark shades.
Combined with its homogenous semi-glossy surface and high visual gloss, the company expects this paper to result in photorealistic prints for demanding labels and large format printing. Its reverse side is also designed to match to a self-adhesive finish.
The jetscript MH 7086L is a premium, matt-coated inkjet paper. Appropriate for both label and large format applications, it also provides customers with a homogenous, even surface and optimised ink-receiving layer in the hopes of producing vivid and lifelike colours. This solution comes in two versions – one 70 gsm, the other a heavier 90g.
Finally, Mitsubishi's barricote barrier papers are thought to enable the combination of barriers against water vapour, grease, oil, oxygen, aroma, and mineral oil migration. Everything in the range is paper-based and recyclable, the company says, as well as 100% free from plastic films, extruded polymers, laminates, and fluorocarbons.
As such, the papers – including barricote WRAP and LINER and the new PACK 75 – are set for flexible food and non-food packaging like bags and wrapping papers. Mitsubishi also emphasises that all the paper products displayed at its stand are available with FSC or PEFC certification.
At interpack 2023, Henkel and UPM Specialty Papers displayed two recyclable, heat-sealable barrier paper solutions for food and non-food packaging applications – bringing together Henkel's coatings and UPM's packaging papers to create a material claiming to offer 'an unsurpassed level' of grease resistance.
Earlier this year, Mitsubishi HiTec Paper updated its matt inkjet paper range, jetscript, with two new premium papers being implemented specifically as face materials for label applications.
If you liked this article, you might also enjoy:
The Lidl approach to packaging sustainability
How did Brazil achieve its 100% aluminium can recycling rate – and can it be replicated in the EU?
Experts have their say on the EU's Packaging and Packaging Waste Directive revisions
A deep dive into the most important packaging sustainability trends and solution