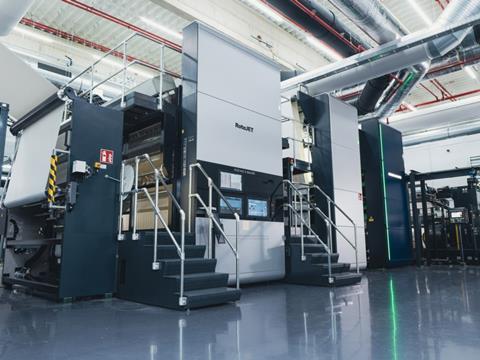 Sealed Air Corporation (SEE) and Koenig & Bauer AG are set to expand their strategic partnership for digital printing machines – a move set to result in the development of co-branded digital printing technology, equipment, and services and enhance packaging design capabilities.
Last year, SEE launched prismiq, a line of intellectual property, software, and hardware solutions designed to produce high-quality, cost-effective designs and increase speed to market. Additionally, it expected to optimise business performance and operational efficiency, as well as connect digital content to packaging to reach consumers.
Now prismiq will be applied to Koenig & Bauer's RotaJET-series of digital printing presses. This combination seeks to accelerate the digitalisation of printing platforms, expand each company's respective portfolios, and increase market opportunities for co-branded digital printing presses.
"SEE is pleased to partner with Koenig & Bauer to enhance both of our digital transformations," said Ted Doheny, SEE's president and CEO. "SEE's prismiq technology will help Koenig & Bauer convert their printing platforms from analogue to digital while Koenig & Bauer will help accelerate and improve the robustness and effectiveness of SEE's digital solutions."
"We are proud to intensify our established partnership with SEE," added Dr. Andreas Pleßke, CEO of Koenig & Bauer AG. "It is a strong and effective catalyst for the further development of our digital printing strategy and digital product initiatives and enhances the strong position of our RotaJET-series of printers for further industrial success.
"To strengthen our broad product portfolio of presses and software solutions for the printing and packaging markets, we have relied on successful cooperation agreements for many years. This unique collaboration with SEE will enable us to create enormous potential for technological progress and business development for both partners."
In another collaborative effort, MGI's varnish technology is being used to power the AccurioShine 3600 inkjet spot UV coater from Konica Minolta. This solution aspires to make digital printing processes stable, reliable, and serviceable in packaging applications and beyond.
Furthermore, the Jet Press FP790 digital inkjet flexible packaging solution from Fujifilm Graphic Communications incorporates a Smart Digital Front End and unified workflow solution from HYBRID Software in a bid to maximise productivity and output.
If you liked this article, you might also enjoy:
McDonald's Director of Sustainability in Europe on the company's approach to packaging sustainability
McKinsey on whether or not on-pack sustainability claims affect consumer spending
Perspectives from industry-leading experts on the EU's Packaging and Packaging Waste Directive revisions
A deep dive into the most important packaging sustainability trends and solutions