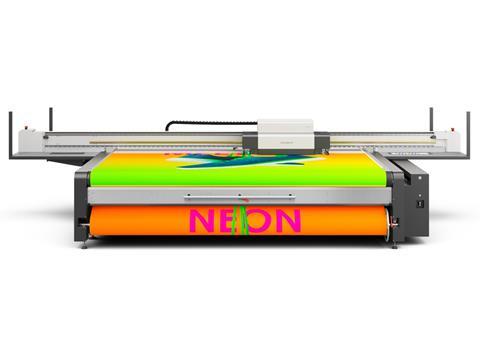 swissQprint displayed its product range of flatbed and roll printers at wetec 2023 in Stuttgart, presenting such developments as neon print and ISO-certified, low-energy digital print technology.
Its new flatbed and roll printers function using print head technology and are said to offer resolutions of up to 1350 dpi without sacrificing productivity. swissQprint claims that the solutions guarantee profitability due to their efficiency-enhancing modes and features.
Each printer offers the ability to print in white, varnish, and in what is claimed to be a swissQprint-exclusive feature, neon. Print demonstrations and a sample exhibition displayed at the event aimed to highlight the company's focus on enabling print service providers to distinguish themselves on different levels; this also included full-surface and selective lacquer finishes for optical and haptic effects.
The Nyala 4 flatbed printer was among the models displayed. Thought by swissQprint to be the best-selling printer of its class in Europe for eight years, it offers five custom-configurable colours in addition to CMYK, reportedly offering a productivity rate of 206 m2/h and a flatbed size of 3.2m.
A swissQprint representative displaying the Tip Switch vacuum at the company's stand explained: "The tandem mode enables non-stop printing of series. I can switch each of the 256 vacuum segments on and off at lightning speed with the touch of a finger." This apparently eliminates the need for masking.
Furthermore, swissQprint Greentech digital printing technology reportedly offers a range of sustainability benefits, including an ISO-certified average energy use of 2.2 kWh – which apparently equates to a traditional kettle – alongside Greenguard Gold certified inks, low maintenance, long service life, and reduced energy consumption due its utilisation of LED.
"Anyone who didn't make it to wetec, we would be happy to invite you to a personal meeting in our showroom in Kerpen," says Wolfgang Tropartz, managing director of swissQprint Germany.
At interpack 2023, Fujifilm exhibited its portfolio of analogue and digital packaging solutions. This included water-washable flexo plates, narrow web inks, and multiple jet presses. This product range aims to support the production of printed packaging and reflect the company's commitment to sustainability.
Meanwhile, Canon's imagePROGRAF TC-20M full-colour, large format desktop printer, designed for applications such as customised wrapping paper, apparently uses less than 26W during operation and 2.4W during standby.
If you liked this article, you might also enjoy:
McDonald's Director of Sustainability in Europe on the company's approach to packaging sustainability
McKinsey on whether or not on-pack sustainability claims affect consumer spending
Perspectives from industry-leading experts on the EU's Packaging and Packaging Waste Directive revisions
A deep dive into the most important packaging sustainability trends and solutions