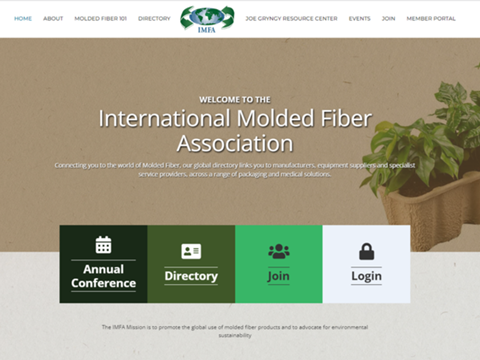 The International Molded Fiber Association (IMFA) has launched its new website and member portal through which members can present their organisations on the member directory, find and submit industry news, post and respond to job opportunities, and more.
IMFA is a global association that works towards the promotion of moulded fibre products and advocates for environmental sustainability. It claims to be "the only global not-for-profit trade association representing the interests of manufacturers of moulded fibre products, industry suppliers and service providers", and its new website is set to enable members to connect with other industry players, share knowledge and expertise, and promote their business to a global audience.
The member portal is designed for easy use; members can log in to update their member profiles, create a directory listing for their organisations, and access exclusive content. Amongst this content is conference presentations dating back to 2015, which have never been available to members previously; and "Molded Fiber 101", a feature that reviews the top questions and answers for industry members.
"Our new website and member portal provide a more modern and engaging experience for our members and website visitors," said Gary Visser, executive chairman of the IMFA. "Our global directory connects members to manufacturers, equipment suppliers, and specialist service providers across a range of packaging and medical solutions. With over 2,000 visits per quarter, on average, our directory is a great way for members to share their organizations and skills with the global market."
Earlier this month, the Ellen MacArthur Foundation launched the Circular Startup Index, which is designed to encourage investment and pursue a circular economy by bringing start-ups and businesses together.
CIRCPACK's interactive ReCoRe platform has also been designed as a database of up-to-date information about recycling standards in 69 countries worldwide.
In more moulded fibre news, PulPac and JOA are bringing the PulPac Modula production platform to the North American market; and MCC Verstraete and Pagès Group applied paper labels to round fibre moulded tubs in a live demonstration at interpack 2023.
If you liked this article, you might also enjoy:
McDonald's Director of Sustainability in Europe on the company's approach to packaging sustainability
McKinsey on whether or not on-pack sustainability claims affect consumer spending
Perspectives from industry-leading experts on the EU's Packaging and Packaging Waste Directive revisions
A deep dive into the most important packaging sustainability trends and solutions