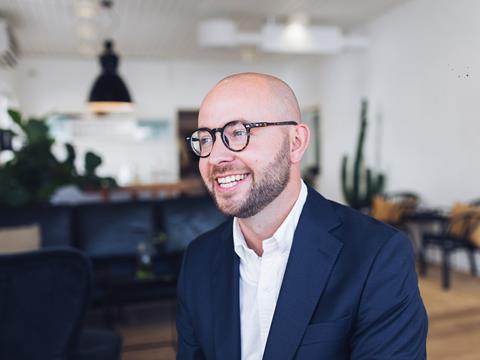 A new platform from PulPac and Huarong Group uses injection molding technology, which is usually associated with plastic conversion, to create fibre-based products. In a recent conversation with Linus Larsson, co-founder and CEO at PulPac, we got an overview of the new product and found out more details about its key functionalities.
For those who might have missed it, please could you give us an overview of this latest project? What makes it novel?
The launch of the new Scala platform is the next revolutionary step to make Dry Molded Fiber even more accessible. It's a smaller machine based on a plastic injection molding machine combined with our Mill-to-Web system.
The size, cost, and simplified operations make it very relatable for anyone familiar with the converting industry, even more so if you are used to plastic converting and want to enter into fiber production.
I'd like to get a bit more granular now – how does the technology actually work?
It's all about applying heat and pressure to loosely packed cellulose fibers to make rigid parts. The beauty of Dry Molded Fiber is that the process is instant, enabling fast production and excellent unit economics.
We format the materials within the machine. All you need to do is restock the machine with pulp, tissue, and barrier materials; the combined, formatted material is then formed into a product. The off-cut material is reused within the machine, which makes the process extremely material-efficient.
What kind of company is this innovation aimed at, and what sort of applications is it suited to?
Scala is aimed at any company curious about new materials and processes and interested in sustainable packaging solutions. Companies that are used to natural fibers and eager to get going.
Companies that feel comfortable with plastic production, but might feel insecure with conventional fiber molding solutions. We have developed Scala to lower the threshold to get started with Dry Molded Fiber and then grow capacity with more machines.
Packaging Europe is, of course, familiar with PulPac's technology and history – but could you give people who aren't familiar an introduction to the work the company does?
PulPac is a technology-driven impact company with the aim to replace single-use plastics with sustainable, fiber-based alternatives. We have developed the Dry Molded Fiber technology to incentivize the industry to shift from plastics to fiber, both from a sustainability and financial point of view.
As we see it, the main challenge is to make the shift in just a couple of years, which is not something we can do ourselves. We need to partner with the whole industry, and therefore, we are offering the Dry Molded Fiber technology to everyone who wants to join this revolution.
We need many machine builders, material providers, toolmakers, and, of course, converters and brands in the ecosystem to make an impact at scale. We offer the technology with a subscription/license model, where we will continue to enhance and innovate Dry Molded Fiber to enable an even more significant shift from plastics to fiber.
PulPac's collaboration with Huarong is a key part of this announcement. How did the partnership come about, and how will it work in practice?
Huarong is our launch partner on the new Scala Platform. They will sell Scala machines to our network companies starting or already using the Dry Molded Fiber technology. We were looking for an agile and innovative machine builder and partner willing to try new solutions and found Huarong. They are the perfect launch partner with great capacity, quality, and speed.
If you liked this article, you might also enjoy:
The L'Oréal approach to packaging sustainability
What steps is Apple taking to make its packaging more sustainable?
How did Brazil achieve its 100% aluminium can recycling rate – and can it be replicated in the EU?
Experts have their say on the EU's Packaging and Packaging Waste Directive revisions