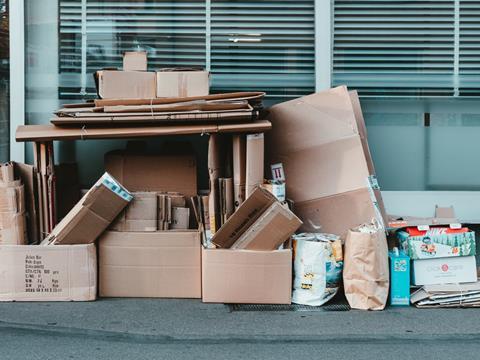 Test Valley Packaging and Wastepack have launched an online hub to support businesses affected by new Extended Producer Responsibility (EPR) regulations by providing accurate, up-to-date information about their requirements.
As part of the Environment Act 2021, the new EPR framework is set to expand existing waste laws over the next few years and place new mandates on producers of goods and their product packaging; this includes the introduction of new waste management fees to cover Local Authority costs and finance recycling obligations under the Packaging Recycling Evidence system (PRN).
Therefore, its introduction could drive up costs for companies in various industries. Test Valley Packaging and Wastepack hope that offering end-to-end solutions, such as an EPR business self-assessment guide, will help businesses prepare for the transition.
Test Valley Packaging expresses its vision to cut down on excessive packaging materials, recommending the use of Agri-waste paper, recycled paper, and similar materials to lower waste management fees. Its team of experts and experience in the packaging industry are expected to result in 'forward-thinking, innovative, sustainable solutions' for businesses in various sectors.
Meanwhile, Wastepack is said to have been one of the first schemes registered in the UK under the introduction of the Packaging Waste Regulations in 1997. Now operating producer compliance schemes for over 1500 businesses, it aims to draw upon its own experience as an expert compliance partner for producers to give advice regarding EPR, the Plastic Packaging Tax, the Waste Electrical Electronic Equipment (WEEE) Regulations, and other legislation.
"Reporting standards are to be more detail orientated, including nationwide reporting for certain producer types," explained Daniel Willock, marketing manager at Test Valley Packaging. "A new lower threshold of £1m annual turnover and 25 tonnes of packaging will be introduced for smaller businesses to report data. Under EPR, one organisation will be responsible for the full compliance cost and producers will no longer share responsibility within the packaging chain.
"We are excited to be partnering with Wastepack on this online hub, which should provide a real-world solution for customers and companies that are going to be affected by this legislation. We have launched a Beta version and will continue to update the data with the latest EPR news and work with businesses on compliance and reducing their waste management fees.
"We know this will affect the businesses we work with, and could prove costly; this partnership offers an effective solution. And you can try it out today!"
In light of the United Nations Environment Assembly in 2022, Emma Samson from Searious Business spoke to Packaging Europe about the potential opportunities of EPR legislation, including the harmonisation of regulations and guidelines to level the playing field in the packaging industry and pursue further incentives to drive sustainability.
This year's Assembly saw Unilever predict that an upcoming Global Plastics Treaty would push for the wider implementation of EPR schemes, amongst other developments.
On the other hand, Elena Rotzokou, global EPR researcher at Ecoveritas, discussed the Packaging and Packaging Waste revisions' apparent lack of focus on e-commerce packaging – noting that it is not explicitly mentioned in general EPR rules and highlighting subsequent action from individual EU Member States to fill in the gaps with domestic EPR systems.
If you liked this article, you might also enjoy:
The Lidl approach to packaging sustainability
How did Brazil achieve its 100% aluminium can recycling rate – and can it be replicated in the EU?
Experts have their say on the EU's Packaging and Packaging Waste Directive revisions
A deep dive into the most important packaging sustainability trends and solution