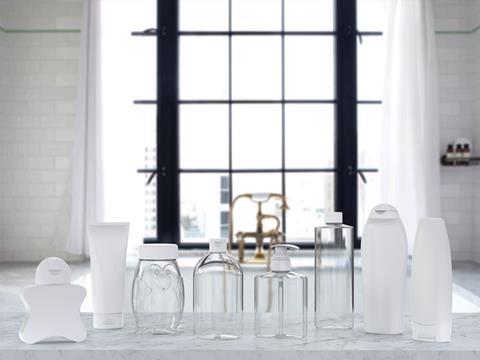 Berry Global is bringing together its M&H and PET Power businesses to create Berry Agile Solutions, an end-to-end, Europe-wide operation hoping to help customers increase speed to market for circularity-minded packaging solutions.
From initial concept and design to delivery and fulfilment, Berry's in-house experts will collaborate with companies to identify their requirements, underline their options going forward, and assist them in making final decisions.
Customers will have a range of pack sizes, formats, and materials to choose from, the company states, and the option to match colours to existing branding is also available.
Products from Berry's B Circular range will also be included in the Berry Agile Solutions portfolio. This line is said to facilitate the creation of mono-material packs and refillable and reusable designs, alongside the incorporation of recycled content – all of which are hoped to guide brand owners towards their sustainability targets.
Furthermore, each pack can apparently be tailored to customer or product requirements, as well as specific marketing and branding objectives, with decorations that are not thought to hinder recycling. Closures, dispensers, and other additional packaging features are also available to provide customers with a complete single-source solution and cut down on time to market.
Berry Agile Solutions is set to shorten lead times and lower minimum order quantities to offer companies of all sizes faster access to a range of packaging solutions; this will include multi-product orders and products with small lot sizes, the company claims.
Product line director Joe Horton commented: "The launch of Berry Agile Solutions will enable companies with new product trials and smaller businesses to bring their new products and innovations quickly to market.
"We have the agility and responsiveness to be able to devise and quickly turnaround effective solutions, with customers benefitting from both the design and technical expertise of the Berry Global organisation, and our in-depth market knowledge of key end-markets. Equally important, we can also support them in meeting legislative requirements such as the UK Plastic Packaging Tax.
"Berry Agile Solutions will support customers in helping them to meet consumer demands, delivering the high levels of service and support that our long-term customers have historically experienced in line with our customer promise – 'Innovation for the world. Solutions for you'."
In similar news, Test Valley Packaging and Wastepack's online hub seeks to provide accurate and up-to-date information about new Extended Producer Responsibility requirements and support businesses affected by the changes.
SABIC has also unveiled its SABIC Material Finder website, through which manufacturers can search, compare, evaluate, and select specialty thermoplastic materials for their products; and the Ellen MacArthur Foundation's Circular Startup Index seeks to provide businesses with the means to collaborate with startups in pursuit of a circular economy.
If you liked this article, you might also enjoy:
The Lidl approach to packaging sustainability
How did Brazil achieve its 100% aluminium can recycling rate – and can it be replicated in the EU?
Experts have their say on the EU's Packaging and Packaging Waste Directive revisions
A deep dive into the most important packaging sustainability trends and solution