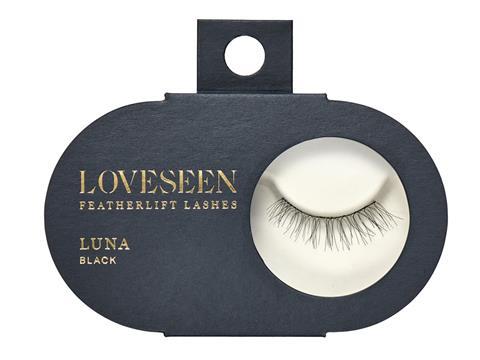 Innovative Beauty Group has partnered with cruelty-free false eyelash brand Loveseen to develop a new 'stylish yet sustainable' packaging design that claims to be around 98% plastic-free.
It features an inner tray claimed to be made of 100% bagasse, or molded sugarcane pulp, with a post-consumer recycled paperboard outer pack. A cotton cord is thought to improve the experience of sliding the tray out of the pack while also elevating the aesthetic appeal of the pack.
Although the packaging still features a clear PET window to showcase the lashes, Loveseen anticipates the removal of this feature in future designs. In the meantime, the design is said to be easily recycled, as the PET window can be removed and the box itself does not feature any glossy or metallic ink decorations.
"Upon our first meeting with the IBG team and touring the facility, we decided it was imperative we create something different," said Jenna Lyons, co-founder of Loveseen. "From that moment, we set out to create our own custom lash tray – one that would stand out on shelves yet was a kinder solution to the environment."
"Through our initial meetings with the Loveseen team, it was evident they had a very specific vision for their lash packaging, with sustainability a top priority," added Jennifer Raphael, CEO of IBG North America. "The development process required several months of strategic innovation, sampling, and redesigns to get the brand's debut packaging just right. The final design is not only elegantly crafted, but 98% plastic-free – with the goal to achieve 100% in the near future."
Other cosmetic brands have turned to refillables to implement sustainable elements into their packaging, such as Izzy's stainless steel mascara tube, Quadpack's mono-material New Regular Refill Jars, and Fasten's REfill REuse REpeat polypropylene jar system.
Avantium also signed an agreement with LVMH Group to supply its plant-based, 'fully recyclable' PEF for cosmetics packaging such as perfume bottles.