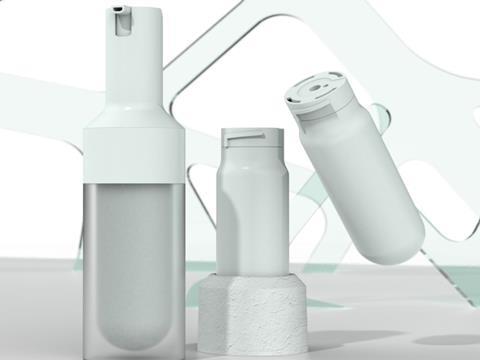 Innovative Beauty Group (IBG) company, Fasten, has introduced the Recharge Luxury Refill solution aimed at personal care applications, which is apparently made entirely from PP and PET with an all-PP cosmetic pump and a colourless, lightweight outer bottle.
According to Fasten, the Recharge Luxury Refill is made entirely from PP and PET, with the company claiming that both materials are recycling stream compatible since their recycled granulates can be reintegrated into manufacturing settings. The company adds that the design includes an all-PP cosmetic pump – reportedly the first of its kind on the market.
Fasten says that the Recharge Luxury Refill System features a bottomless, clear outer frame, instead of a full outer bottle, which apparently allows for reduced weight and material use, as well as full visibility of the refill.
In addition, the inner refill bottle is lightweight and features an easy click-in system with a pre-assembled PP dip tube that prevents cross-contamination when refilling, according to the company. Fasten adds that the refill solution also eliminates the need for glue, includes the option to add a debossed logo rather than ink decoration, and features a small mushroom blister on the shell.
Ilja Zutt, managing director of FASTEN, comments: "At FASTEN, our design and engineering teams are constantly on the lookout for new techniques, innovative materials and sustainable solutions, while collectively working towards translating new trends and ideas into unique packaging concepts.
"The Recharge Luxury Refill is a result of this steadfast effort and one we are thrilled to bring to market, with demand for conscious beauty at an all-time high."
The Recharge Luxury Refill is available in sizes including 30ml and 100ml. Fasten says the solution is ideal for makeup and skincare products.
IBG is a division of Albea Group. Earlier this year, Albea unveiled EcoFusion, offering a two-component HDPE solution for personal care tubes – a tube and a single cap – reportedly making it 80% lighter than standard head and cap solutions.