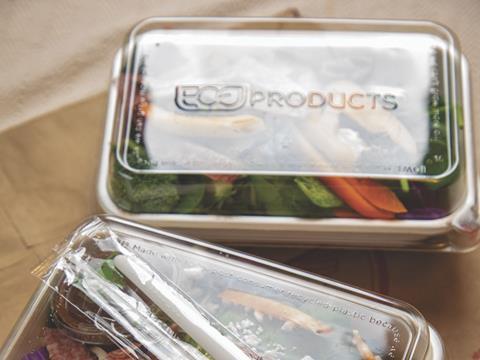 Eco-Products' Vanguard line of compostable cups, plates, and containers made from sugarcane has been given GreenScreen Certification Silver designation.
GreenScreen Certified is an independent, non-profit assessment system developed by Clean Production Action (CPA) and the Center for Environmental Health (CEH) to promote the safer use of chemicals in a number of applications, including foodservice packaging.
The Vanguard foodservice range uses a proprietary chemistry to achieve grease resistance without the use of per- and poly-fluoroalkyl (PFAS), sometimes referred to as 'forever chemicals' because they do not readily break down over time.
There is evidence that some PFAS substances used in non-food applications like textile treatment can accumulate in the bodies of animals, including humans, and are already regulated in the EU, which is also considering a blanket ban. The GreenScreen certification system uses a Restricted Substance List, which includes PFAS, to check the chemical safety of products.
In addition, GreenScreen also assesses for the presence of 'chemicals of high concern' or known regrettable substances that occur when one ingredient is removed but replaced with another problematic element. According to Eco-Products, GreenScreen has agreed that the Vanguard range does not contain chemicals from either of these categories.
According to Eco-Products, the Vanguard range is BPI certified as compostable, microwave-friendly, cut-resistant, and effective in both hot and cold applications.
Eco-Products claims that it is the first foodservice ware product line to earn GreenScreen Certification.
Ian Jacobson, president of Eco-Products, comments: "Finding an alternative formula to replace PFAS was our top priority. But we also wanted to ensure our products did not contain other chemicals of high concern or known regrettable substitutes.
"We are incredibly proud to be the first manufacturer to offer an innovative foodservice product with a preferable chemistry."
Sue Chiang, food program director at CEH, adds: "This new safety standard will empower consumers to make healthier decisions for themselves and their families."
While there is some debate over the environmental benefits of single-use foodservice ware, even when plant- or paper-based, a number of innovations have recently emerged in this segment, including Huhtamaki's new 100% wood fibre Sundae cup for McDonald's and Seal Packaging's reportedly home compostable takeaway food packaging to be used in a sandwich bar in London