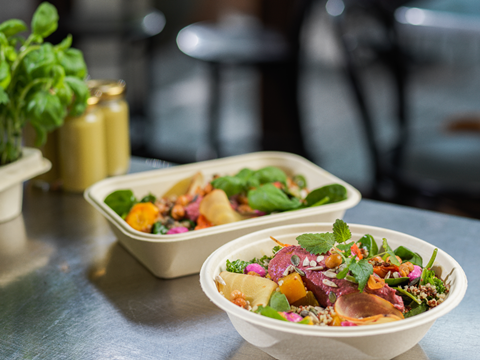 Stora Enso is introducing a new range of takeaway bowls for foodservice packaging, PureFiber. The bowls are free from plastic and PFAS and are designed to help customers replace plastic on-the-go food packaging.
The range is being brought to market together with the wholesale company Tingstad, and Stora Enso hopes to expand it to other food and consumer goods applications in the future.
Stora Enso says that its formed fibre products are designed for circularity, meaning that they are renewable, recyclable, and biodegradable. The new product line also reportedly enables a carbon footprint that is approximately 75% lower compared to alternative product materials such as plastic or bagasse.
"Consumers are looking for products designed for more eco-friendly lives," says Sohrab Kazemahvazi, senior vice president of formed fibre at Stora Enso.
"They want to minimise waste and their carbon footprint and reduce their use of plastic. The formed fibre products we are bringing to market are game-changing in the sense that they help strong brands achieve their ambitions in sustainability and the circular economy."
Stora Enso sells its formed fibre products directly to brand owners and wholesalers while, in the Nordic countries, Stora Enso cooperates with wholesaler Tingstad, which sells PureFiber food bowls directly to customers in the fast-food industry.
Tingstad is a family-owned company and a leading distributor of disposables and food service products to the HORECA sector in the Nordic countries.
"We strongly believe that PureFiber will play an important role in the market conversion from plastic to non-plastic food packaging. We are excited to bring a truly sustainable solution to the market together with Stora Enso," says Johan Larsson, purchasing manager at Tingstad.