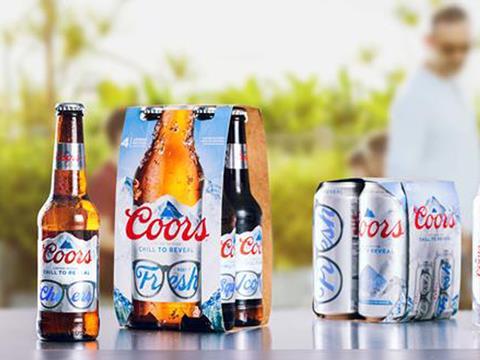 Molson Coors has launched limited-edition packs featuring labels that change colour according to the temperature of the drink.
The beverage company is using thermochromic ink, which turns the mountain peaks on Coors bottles and cans blue when the beer is cold enough to drink. The company has been a pioneer of this type of technology on its beer products.
This Summer the brand is launching seven limited-edition chill-to-reveal designs with this technology – and hidden word will be revealed behind a pair of sunglasses across the full length of every bottle and can when the packs are chilled to the right temperature.
Lee Willett, brand director, Molson Coors, explained "The label that shows you when your beer is cold enough to drink is an iconic feature of the Coors brand, accentuating the mountain cold refreshment that underpins our lager and the crisp and light flavour profile that people know and love. These limited-edition designs, which are available just this summer, bring this to life even more."
Another big brand, Kraft Heinz, is introducing a glow-in-the-dark marshmallow bag for its JET-PUFFED Camp S'mores brand in the USA. It is also creating a Star Registry-official Jet-Puffed constellation, which fans can discover via a custom AR filter, by scanning a QR code on back of the packaging or at smoregazing.com. It hopes to encourage fans to get outside and #GoSmoregazing.
JET-PUFFED knows that finding a bag of marshmallows outside under the dark night sky can sometimes be challenging. "As we gear up for the first day of summer and prime marshmallow roasting season, we wanted to give fans a way to enjoy their s'mores no matter if it's day or night," says Samantha Mills, associate director of brand communications at Kraft Heinz. "The new glow-in-the-dark packaging makes it easy to find your bag of marshmallows when the sun sets around the glowing campfire."
JET-PUFFED is encouraging all marshmallow lovers to #GoSmoregazing this summer – stargazing with a bag of s'mores - for a chance to win a free S'moregazing kit. To enter consumers must post a picture of their S'moregazing experience at #GoSmoregazing #Sweepstakes on Instagram. The kit will include a telescope, glow-in-the-dark skewers, new JET-PUFFED Camp S'mores and s'mores ingredients, glow-in-the-dark stickers and more, says the company.
The special packs of marshmallows are available in the US market only at Walmart and other major retailers.
This article was created in collaboration with AIPIA (the Active and Intelligent Packaging Industry Association). Packaging Europe and AIPIA are joining forces to bring news and commentary about the active and intelligent packaging landscape to a larger audience. To learn more about this partnership, click here.