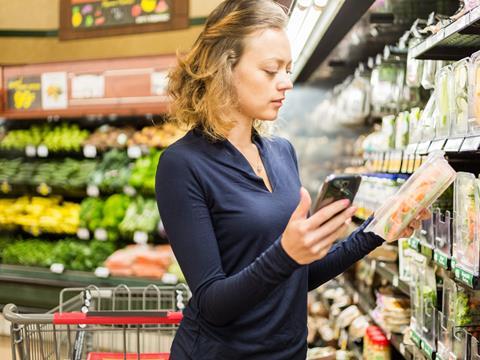 One of the biggest challenges brands face is keeping up with innovation and in the new digital world where consumers increasingly rely on smartphones, brands must innovate smart, connected packaging as well, according to IPwe, a new AIPIA member which offers a global innovation platform for licensing emerging technologies.
Promoted by key players such as Walmart, the industry and global standards organisation GS1 have set a date to make the transition to accepting 2D barcodes at point-of-sale (referred to as 'Sunrise 2027'). These codes offer increased product information, supply chain transparency, and engagement compared to traditional UPC codes.
To achieve this transition a combined effort is required from not only the brand owners and retailers themselves, but standards organisations, industry partners, manufacturers, and Intellectual Property (IP) rights holders.
GS1, always informs users and potential users that the implementation of one or more features of its technical specifications may be the subject of a patent or other IP rights. But general awareness of this fact among connected or interactive packaging adopters is remarkably low, as is awareness of the solution: access to this critical IP, says IPwe.
In contrast to the typical approach of using IP rights to exclude, many top innovators in this space are now looking to promote GS1 Digital Link adoption and interactive packaging innovation. These companies, such as AIPIA members mobiLead and Advanced Track & Trace, have used their expertise to develop patented best-in-class technologies that can be deployed by brands that obtain the necessary rights to do so.
IPwe, has pioneered the Digital Link Smart Pool initiative. It provides a unique framework for brands to access these key patent-protected technologies so they can successfully navigate the IP landscape, it claims, without the inefficiency, cost and complexity of the conventional licensing model.
So far, says the company, over 300 members have joined its Smart Pools in Blockchain, Digital Link, ESG, LiDAR, and Metaverse technologies, since the start of 2022.
Rather than confusing customers with multiple barcodes on their product, a single data-rich barcode is the answer, claims IPwe. A single 2D barcode will provide point-of-sale functionality and a consumer-facing URL. But brand innovators want to develop additional interactive packaging features.
They want to go beyond the basic specifications and build on top of the existing standard, but are often missing the proverbial golden key to unlock the full potential of the GS1 Digital Link: IP rights from those that have led the way in developing this technology.
IPwe believes it removes traditional barriers to entry, so R&D teams can focus on what they do best: innovating and implementing technology to give companies a competitive advantage. With the necessary technical solutions and frameworks developed by providers in collaboration with IPwe these features can be implemented, using the GS1 Digital Link standard along with the relevant IP.
With digital transformation sweeping CPG companies across the world, the GS1 Digital Link is a key enabler of smart packaging solutions. Entire product ecosystems will be digitalized and revolutionized with a single barcode that supports supply chain operations, point-of-sale, and customer interactions, IPwe predicts.
This article was created in collaboration with AIPIA (the Active and Intelligent Packaging Industry Association). Packaging Europe and AIPIA are joining forces to bring news and commentary about the active and intelligent packaging landscape to a larger audience. To learn more about this partnership, click here.