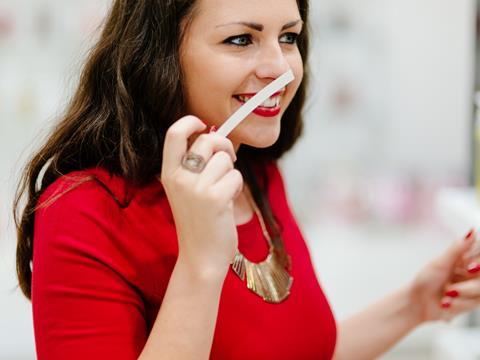 According to H&H Graphics, a new member of AIPIA, there is a wide and growing interest in incorporating scent into packaging. The potential for innovation is pretty much unlimited, particularly when combined with other multisensory effects, it says.
Multisensory special effects for packaging can include chromic reveals like messages activated by water, light and temperature. But scented effects provide the most studied – and proven – level of ROI, according to the company. This can range from scented packaging that carries a signature or brand scent into the unboxing experience, to scent that conveys a particular association, such as nostalgia, luxury, or wellbeing.
The technology for incorporating scent includes the development and testing of specialized inks to create a customised, high-quality scent and to ensure its release and resiliency. Scent can be incorporated with encapsulation that creates a release upon opening, or for scratch interaction, as well as printed directly onto or into packaging. One example is scented recipe suggestions on food and beverage packaging.
Recently H&H helped to develop a rapid screening tool in the fight against COVID-19. An impaired sense of smell is common in many neurological disorders. Initial research revealed smell dysfunction as an early symptom of COVID-19 and a more effective screening criterion than fever checks.
While a smell assessment is not intended as a means to diagnose, treat, cure or prevent any disease, there is growing interest in the smell test as a way to detect smell dysfunction that could be linked to COVID-19 infection. In a recent study by researchers from Iran and the University of Pennsylvania, 96% of COVID-19 positive patients exhibited some degree of measurable smell loss.
Major advantages are that smell testing is inexpensive, easy to perform and provides immediate test results. H&H worked with Dr Richard Doty, the director of the University of Pennsylvania Smell and Taste Centre and founder of Sensonics International, a New Jersey-based company that produces smell and taste tests used in a wide variety of applications.
Doty's team developed an inexpensive smell test, costing just 8 cents, that can be used to quickly identify smell loss as a screening tool. A score of 5 or less on this test, which is available on Amazon, is an indication of smell dysfunction. Sensonics, in collaboration with H&H Graphics, created a test for use in identifying this potential COVID-19 biomarker. The scratch-off tests use a combination of eight scents with multiple-choice options for identifying them.
Additionally, H&H recently created scented sample cards for a candle company to include in its e-commerce packaging to drive interest in re-orders. It has also printed a variety of scented wrapping and tissue paper. Another project involves a candy wrapper, with an environmental/ocean messaging concealed beneath a hydro-chromic layer so, when wet, the package reveals the brand's message regarding climate change.
This article was created in collaboration with AIPIA (the Active and Intelligent Packaging Industry Association). Packaging Europe and AIPIA are joining forces to bring news and commentary about the active and intelligent packaging landscape to a larger audience. To learn more about this partnership, click here.