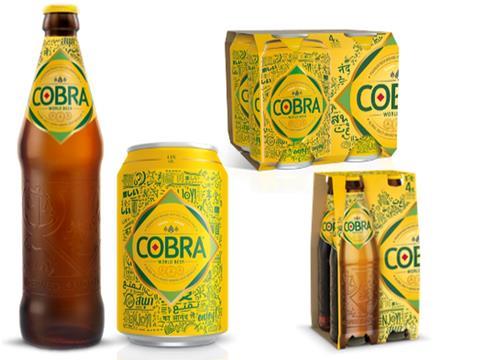 Cobra Beer is undergoing a visual rebrand for its entire range to connect the drink with Pan-Asian cuisine and cater to increasing consumer interest in spicy cuisine.
Since its inception, the low-carbonated beer has been intended to accompany Indian, Vietnamese, Chinese, Thai, Japanese, Turkish, Lebanese, and Sri Lankan dishes, amongst other traditionally spicy foods. Its new artwork aims to represent the diversity of spicy food and align with the company's brand campaign: 'Where There's Spice, There's Cobra.'
In a survey carried out by Cobra among 2000 respondents, over half of 18-to-34-year-olds reported that they are 'adventurous' when it comes to trying new cuisines and add spice to most of their savoury meals. Therefore, the style derives its style from graffiti to appeal to young 'urban foodies' in search of a premium brand.
The new design will roll out in Tesco, Sainsbury's, Co-op, Asda, and other supermarkets. Restaurants like Giggling Squid, Mowgli, and 28,000 independent Pan-Asian restaurants across the UK will also stock cans featuring the new branding.
"Cobra's new creative puts the seal on our founding values - to create a beer that is irrefutably good to enjoy with spicy food," states Lord Karan Bilimoria CBE, founder of Cobra Beer. "Britain's taste buds are evolving and becoming more adventurous, and there's an opportunity here for Cobra to sit at the heart of the Pan-Asian food revolution in the UK.
"Cobra is firmly on the journey with Britain's evolving taste buds, and I'm delighted to roll out this new look to give our consumers some food for thought."
A new design for Heineken Enterprise's Pélican craft beer cans is utilising Ardagh Metal Packaging's H!GHEND printing technology to encourage consumers to optimise the drink's flavour by flipping the pack.
7UP's first major overhaul of its branding in seven years saw the company redesign its bottles and cans to coincide with the new, 'comedic' shift in its brand identity.
If you liked this article, you might also enjoy:
The Lidl approach to packaging sustainability
How did Brazil achieve its 100% aluminium can recycling rate – and can it be replicated in the EU?
Experts have their say on the EU's Packaging and Packaging Waste Directive revisions
A deep dive into the most important packaging sustainability trends and solution